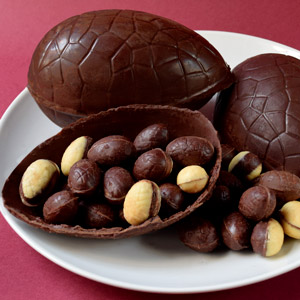 Easter is coming. Chocolate eggs are everywhere. As are the chocolate bunnies in golden foil. There are stacks upon stacks of them in supermarkets. Their bright wrappers silently scream at you to eat more sugar.
But we can't do that. That would be against our low-carb principles. So what shall we do?
You know that chocolate doesn't have to be loaded with sugar, don't you? We can make our own perfect low-carb eggs and bunnies without using any.
So let's say yes to chocolate and no to sugar.
Is it hard to make your own chocolate egg?
It takes a bit of time, and requires some preparation, but it's not hard at all.
You need to get the raw ingredients and moulds in advance. Melting chocolate and making things with it is quite enjoyable. Creating your own treats is more fun than just buying them. Kids love it too. You will probably make a shocking mess of your kitchen, but it will be worth it.
The basic process is quite simple. We melt our chocolate ingredients (or sugar-free bars) and pour it into chocolate moulds. Cool them down and voilà!
Chocolate moulds
You will need plastic or silicone moulds
to make your chocolate eggs (or bunnies). They only cost a couple of pounds.
I got this Lakeland moulds set set from Amazon. The pack includes moulds for 4 halves of big eggs, and 36 halves of small ones. So you can make 2 big eggs and 18 small ones to go inside of each big egg. I calculated the volume of ingredients in the recipe below with these moulds in mind.
If you have different moulds, you will need to amend these amounts. They usually come with guidelines on how much chocolate you need. You will need to recalculate carb counts as well.
If you want to make Easter bunnies, get the mould for bunnies.
Making sugar-free chocolate from basic ingredients
I prefer to break my recipes down to basic ingredients as much as possible. This way, you can know for sure what you are eating, and calculate precise carb counts.
To make chocolate from scratch you will need three components:
Cacao component – either 100% cacao solids chocolate, or 100% cacao powder
Fat component – coconut oil and cacao butter would be the best choice. You can also use heavy cream or dairy butter.
Sweetener component – I recommend a mix of erythritol and Stevia such as Truvia, Sukrin or Swerve. Liquid drops would work too (but watch out for temperatures).
Optional: flavourings and titbits. Add more oomph to your chocolate with flavouring (e.g. vanilla, orange, mint, almond extracts) and additions like crushed nuts and seeds.
Making chocolate eggs from sugar-free chocolate bars
Perhaps you have a favourite trusted brand of sugar-free chocolate. You could just melt it down to make your chocolate eggs. This is certainly easier!
If you go for this option, disregard nutritional information below. Look up the values on your chocolate's packaging instead.
My favourite sugar-free chocolate brand is Cavalier. So I used their chocolate bars to add some colour variations to my eggs. I have used the milk chocolate bar and white chocolate bar. This added some colour variety to my favourite dark chocolate.
Melting the chocolate
There are two ways to melt your chocolate down – Bain-Marie or microwave. Bain-Marie takes longer but is better.
Bain-Marie method: put your chocolate chunks into bowl. Put the bowl on top of a pan with boiling water. Make sure the bottom of the bowl does not touch the water. Let the water boil until all chocolate melts into a smooth silky mass.
Microwave method: put your chocolate in a microwave-safe bowl and give it several short blasts of 15-20 seconds. Take it out after each blast and mix with a spoon. This method is faster but your chocolate might overheat and burn. This would ruin it completely. So be very careful with this method.
Pouring chocolate into moulds
Once your chocolate mix has melted, cool it down a bit. It needs to be gooey, like thick syrup or honey.
Making solid chocolates, like the small eggs below, is very simple. You just pour your melted chocolate into the moulds and let it cool.
Making a chocolate shell, like the big Easter egg, is a bit harder. You will need to create multiple layers to build up the shell. Use a pastry brush, a big spoon or just your fingers. Smear the inside of the mould with a thin layer of chocolate. Stick it in the fridge for several minutes to set. This won't take long for a thin layer. Repeat the process 5-10 times, until your chocolate shell is thick and strong. Using thin layers is important. Otherwise your chocolate will congregate on the bottom of the mould.


When to add sweeteners
Sweeteners react to high temperatures in different ways. Check your specific sweetener brand to decide when is the best time.
Erythritol might not melt completely over Bain-Marie. You want the granules dissolve completely. Otherwise they might spoil the texture of your finished chocolate. I melted erythritol separately by adding a couple of spoonfuls of hot milk to it. A little bit of boiling water would also work ok. I then added this mix into my melting chocolate.
Liquid drops are just the opposite. Heat can break them down and create an unpleasant taste. So if using liquid drops, add them in the very end, after your chocolate has cooled down a bit.

Low-Carb Sugar-Free Chocolate Eggs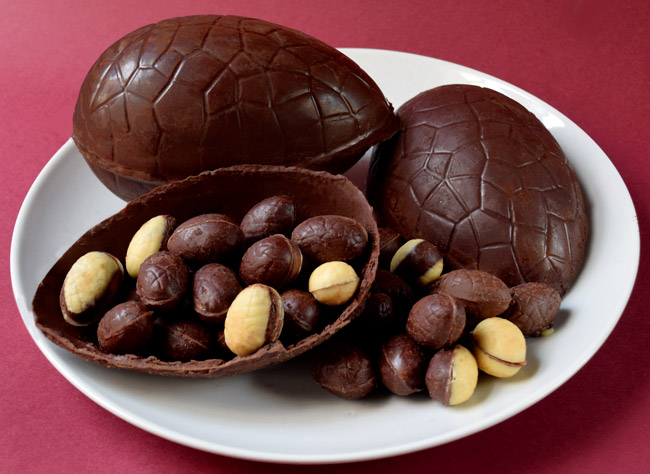 Low-Carb Sugar-Free Chocolate Eggs - Make them at home
Total time: 60 min | Yield: 2 big chocolate egg shells and 36 solid mini-eggs
Ingredients
For dark chocolate eggs – made from scratch:
For milk chocolate eggs (lighter brown colour)
40g

[milk-chocolate-US]

by Cavalier
10g

[coconut-oil-US]

 or heavy cream
For white chocolate eggs (creamy colour)
Instructions
Break your chocolate, coconut oil and cacao butter (both solid at room temperature) into small chunks
Place them into a bowl over a pan with boiling water (Bain-Marie)
Keep boiling the water until the chocolate melts into a smooth mass
If using a granulated sweetener, dissolve it in a small amount of hot milk or boiling water
Add sweetener mix to the chocolate
Take the chocolate off the heat and allow it to cool for 15-20 minutes
If using sweetener drops, add them now
Pour chocolate into moulds or build up a chocolate shell layer by layer
Stick your moulds into the fridge and allow to cool completely
Gently pop your chocolate eggs out of the moulds
Use the remaining chocolate to "glue" the egg halves together
Nutritional information
Big egg shells made with dark chocolate – 2 total (100g each)
590 cal, 73g fat, 7g protein, 5g net carbs
Small egg – dark chocolate (10g each)
59 cal, 7g fat, 1g protein, 0.5g net carbs
Small egg – milk chocolate (10 g each)
56
cal,
5g
fat,
1g
protein,
2g
net carbs
Small egg – white chocolate (10g each)
50cal, 4g fat, 1g protein, 2g carbs