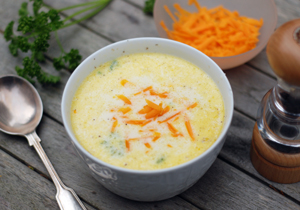 It's cold outside – time to make hearty soups and stews! This cauliflower soup recipe is very simple, but utterly delicious.
Basically, you just need to boil cauliflower in stock, add lots of fat (in form of cream and cheddar cheese) and season!
This is an expanded recipe from the classic low-carb cauliflower dishes round-up earlier this year.
By the way – the orange bits on the photo come from grated Red Leicester cheese, which is similar to cheddar. They are not carrots!
Keep reading "Simple cauliflower soup with cheddar"