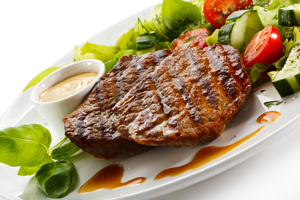 Can you get a low-carb take-away? Or go out for dinner and stay on your low-carb diet?
Eating out on a low-carb diet is definitely possible. You just need to choose your food carefully.
Most restaurants serve meat, poultry or fish dishes (except vegetarian venues). Be careful when choosing starters, side dishes and sauces. Obviously, avoid the bread basket and any sugary desserts.
Below is a quick guide to popular ethnic cuisines, and protecting yourself from carb exposure when eating out.
Easy to find low-carb options
British/European food, Steak and seafood restaurants, Spanish restaurants and tapas bars, Lebanese restaurants and kebab houses
Possible to find low-carb options, but also some high carb temptations
Chinese, Thai, French, Indian
Full of high carb temptations
Italian restaurants, high street coffee houses, fast food chains
---
Low carb options – Chinese
Stay away from rice and noodles, dim sum, wontons, pancakes, spring rolls, prawn toast, anything in batter, sweet and sour sauce, oyster sauce and sweet dips.
Clear soups are a good option for starters. Choose one without wontons.
Go for whole meats with minimum sauce like Hong Kong duck, roast pork or broccoli beef. Order vegetables as your side dish instead of rice, for example, shiitake mushrooms, bean sprouts, bamboo shoots and Chinese greens.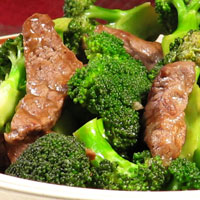 Low-carb meal example – Chinese
Starter: Chicken and mushroom soup
Main course: Broccoli and beef, king prawns with ginger and green onion
Side dishes: Chinese greens, bamboo shoots, shiitake mushrooms
---
Low carb options – Indian
Avoid poppadoms, naan bread, rice and pastries like chapatis and samosas. Standard Indian curry sauce is made from tomatoes and onions, but sugar is often added to improve the taste, so it's safer to avoid those too.
The best option would be tandoori grilled meat like lamb shashlik or king prawns, and a vegetable side like fried mushrooms, okra or eggplants.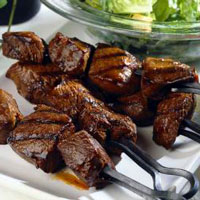 Low-carb meal example – Indian
Starter: Shish kebab skewers
Main course: Tandoori lamb, chicken or fish
Side dishes: Fried eggplants, okra or mushrooms
---
Low carb options – Thai
Restaurant-made Thai curries might include palm or coconut sugar to even out the spices.
Opt for a stir-fry instead, and have it with extra vegetables rather than rice or noodles. Clear soups like tom yam are fine.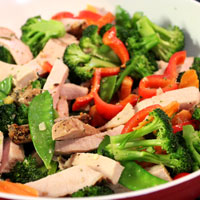 Low-carb meal example – Thai
Starter: Tom yam soup
Main course: Beef, chicken or seafood stir-fry with vegetables (no rice or noodles)
Side dishes: Fried or steamed vegetables
---
Low carb options – Italian
Italian restaurants are a den of temptation for a low-carb dieter, with all those pizzas and pastas. Avoid looking at them, and you might find some protein-based dishes like grilled meat or seafood. Bistecca alla Florentina would be ideal – a very fatty cut of steak.
Antipasti like charcuterie plates, carpaccio, olives, mozzarella and tomato salad, are fine.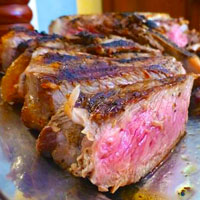 Low-carb meal example – Italian
Starter: Mixed olives
Main course: Pollo Prosciutto (chicken) or Bistecca alla Fiorentina (steak)
Side dishes: Green salad or roast vegetables
---
Low carb options – Spanish
The Spanish love their meat, so low carb options are very easy. Whether ordering tapas or main courses, there should be plenty of high protein, low carb options.
Watch out for paella and tortillas – these are high in carb.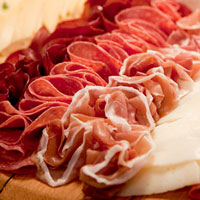 Low-carb meal example – Spanish
Starter: Jamon
Main course: Steak, pringa (slow-cooked meat) or pinchitos (meat skewers)
Side dishes: Salad or boiled vegetables
---
Low carb options – French
French cuisine relies heavily on fat, so there are many low carb options.
Any dish cooked in wine is usually fine, for example, coq-au-vin or beef bourguignon. Entrecote is basically steak, so is a very safe choice. Shellfish and seafood are also good choices. Cote de boeuf steak is fantastic.
Watch out for anything cooked with béchamel or béarnaise sauce, as they are flour-based.  Stay away from pastries and pancakes. Snails look innocent but are actually quite high in carbs.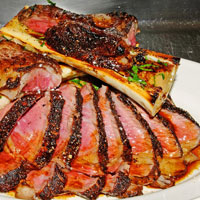 Low-carb meal example – French
Starter: Charcuterie plate
Main course: Cote de boeuf steak (without fries)
Side dishes: Spinach or a green salad
---
Low carb options – Middle-Eastern
Middle-Eastern cuisine is big on meat, usually grilled over charcoals. There are many vegetable-based sides, salads and dips. You will be spoiled for choice. The easiest option is a meat kebab with grilled vegetables or a green salad on a side.
Avoid pitta bread and rice.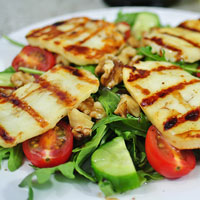 Low-carb meal example – Middle-Eastern
Starter: Olives and pickles, grilled halloimi
Main course: Any kebab or shawarma (without bread)
Side dishes: Salad
---
Low carb options – Mexican
Guacamole is a great low-carb option for a starter, consisting mostly of avocado. Any meat-based dish, like beef fajitas, that comes in a taco or a tortilla can be served on its own.
Avoid beans and corn.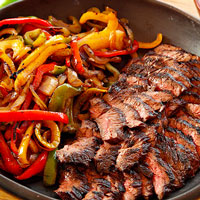 Low-carb meal example – Middle-Eastern
Starter: Guacamole
Main course: Fajitas on a plate (without tortilla)
Side dishes: Salad
---
Low carb options – British
British and generic European food usually includes a chunk of protein like steak, lamb, grilled fish or chicken. Combine it with a salad or cooked vegetables, and you are safe on your carb front.
Bread baskets, potatoes and desserts are of course to be avoided.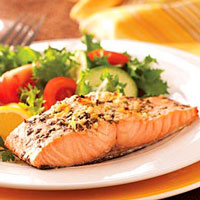 Low-carb meal example – British
Starter: Olives, grilled prawns
Main course: Steak, fish, roast chicken or sausages
Side dishes: Salad or boiled vegetables
---
Low carb options – coffee shops (e.g. Starbucks, Cafe Nero)
Be very careful in coffee houses. All food and snacks available are very high in carb.
A word of caution on the coffee itself. Milk contains carbs, so a coffee with a large amount of milk (like a latte or a flat white), could be high in carbs. Switch to a coffee with a smaller amount of milk, like Americano or Espresso. Soya milk has a lower carb content than cow milk and is available from most coffee shops.
If a coffee house serves sandwiches or paninis, one possible option is to get one of those and discard the bread. A filling like ham and sliced cheese would be the easiest to handle.