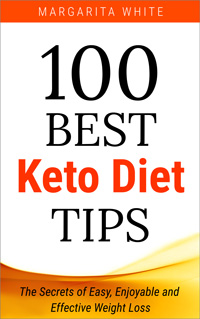 I hope you enjoyed the book 100 Best Keto Diet Tips and found it useful for your Keto Diet progress.
Here are some further materials you might want to check out – Keto recipes, food blogs, websites and books. This page will be updated regularly.
If you have any comments or questions for me, please leave a comment at the end of this page.
If you liked the book, I would greatly appreciate it if you could please leave a review on Amazon and share your opinion.
Checking food for net carbs
USDA Food Database
The official food database from US Department of Agriculture. Mostly includes whole foods, plus a few popular food brands. Net carbs not provided – use the formula "Total Carbs – Fibre = Net Carbs" to calculate.
SELF Nutrition Data
The data also comes from USDA, but the interface is a bit more user-friendly.
Atkins Net Carbs Counter – Free PDF
Very basic, but covers many popular foods. Not interactive.
Food tracking apps with net carb counts
Keto macronutrients calculators
Keto Calculator by Perfect Keto
Keto recipes blogs and websites
Keto Recipes on Foodgawker
Best blogs for Keto baking and dessert recipes
Keto cookbooks
50 Delicious Ketogenic Recipes
50 Keto recipes by Martin Rowland
Keto Living Cookbook
101 Keto recipes by Ella Coleman
The Ketogenic Cookbook
Over 150 Keto recipes from Maria Emmerich and Jimmy Moore
Bacon & Butter: The Ultimate Ketogenic Diet Cookbook
150 recipes by Celby Richoux
Fat Fast
Fat Fast Cookbook: 50 Easy Recipes
Cookbook by Dana Carpender
Keto Living Fat Fast Cookbook
Cookbook by Ella Coleman
Complete Guide to Fast Fast
In-depth article with recipes at KetoDietApp blog
Keto pizza crust recipes
50 Best Low-Carb Pizza Recipes via Low Carb Lab
Bone broth
How to make bone broth by Fat Burning Man
Fat bombs
Sweet and Savory Fat Bombs Coockbook: 100 Delicious Treats
Cookbook by Martina Slajerova
Keto breakfast recipes
30 Best Low-Carb Breakfast Recipes
Keto snack recipes
Exercise on Keto
Exercise performance on ketogenic diets
Overview article by Authority Nutrition
Maffetone Method
Fat loss plan combining slow running with a keto diet
The Art and Science of Low Carbohydrate Performance
Book by two prominent scientists who advocate low-carb lifestyle for athletes
The Low Carb Athlete
Book by Ben Greenfield – Ironman triathlete who eats low-carb
Keto Diet multivitamins
Multivitamins bridge any potential gaps in your nutrient intake, support your health and improve your overall well-being while dieting. Specific nutrients solve common Keto problems, for example, B-vitamins and magnesium to improve energy levels.
Nutri-Align Multivit
Extra-strong multivitamin/multimineral, designed for Keto dieters, with chromium and green tea extract. Iron-free and sugar-free.
Keto Labs Core Basics (USA only)
Multivitamin plus probiotics formulation for Keto dieters
Keto Diet supplements
Co-Enzyme Q10
Co-Q10 improves energy levels and stimulates fat-burning metabolism. Recommended by Dr Atkins to speed up ketosis and push through weight loss plateaus.
Omega oils
Omega oils support heart health, reduce metabolic resistance and can help to curb sugar cravings.
L-Carnitine
L-Carnitine boosts fat-burning metabolism and helps to speed up ketosis
Psyllium husk
Psyllium husk fibre supplement ensures healthy, trouble-free digestion without any embarassing side effects
Green tea extract
Green tea extract boosts metabolism and reduces sugar cravings
Sugar-free chocolate brands
Valrhona: pure cocoa powder
Ghirardelli:  unsweetened cocoa powder and solid chocolate blocks
Low-carb flours and baking ingredients
Flours based on nuts and seeds
Thickeners
Sweeteners
Erythritol (pure or mixed with Stevia extract) is the best sugar substitute for baking and cooking.
Liquid sweetener drops (Stevia extract or sucralose) work best for sweetening beverages, and making desserts that don't require cooking.
Kitchen tools
Spiraliser tool
Handy tool for cutting zucchinis into stripes for "zoodles"
Slow cooker
Easy way to cook Keto meals with meat and vegetables
Steamer
Fast cooking method for vegetables, fish and seafood