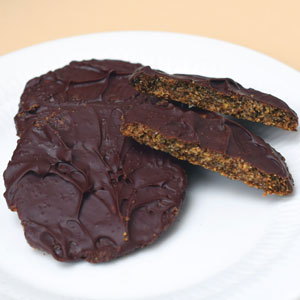 This recipe is a low-carb version of chocolate digestive biscuits.
In Britain, digestive biscuits are a national treasure loved by everyone. If you are not from England, they are semi-sweet biscuits with fibery texture, traditionally made with wholemeal flour.
The name "digestive" dates back to 19th century, when these biscuits were believed to have antacid properties because they contain sodium bicarbonate.
They are great for dunking in your tea, and are often crumbled for use in other recipes, for example, cheesecake base. Keep reading "Low-carb chocolate digestives"