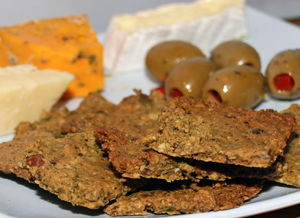 Do you need something crunchy to nibble on?
These low-carb crackers are made from almond flour, walnuts and sunflower and pumpkin seeds. They are crispy, crunchy and very satisfying.
Perfect with cheese and olives, plus perhaps a sneaky glass of red wine.

The recipe is really simple. We are going to mix almond flour with some ground nuts and seeds, add egg whites and coconut oil, and then roll it out thinly and bake. Simple!
I used walnuts, sunflower seeds and pumpkin seeds, but really any other nuts or seeds would work equally well.
It's best to grind them using a blender or a food processor. Don't overdo the grinding, as nuts and seeds release oil when ground very finely. That would work for the recipe, but makes it a bit more difficult to get out of the blender!
Low-carb crispy rosemary crackers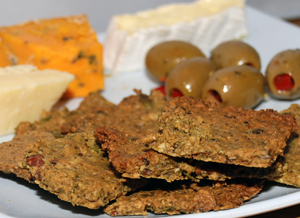 Low-carb, gluten-free crispy rosemary crackers
Prep time: 10 min | Cook time: 20 min | Total time: 30 min
Yield: 48 crackers
Ingredients
1 cup (90g / 3oz) ground almonds
1 cup (100g / 3oz) chopped walnuts
1/2 cup (70g / 2oz) sunflower seeds
1/2 cup (70g / 2oz) pumpkin seeds
45g (1.5oz) coconut oil, melted
3 egg whites
3-4 stalks of rosemary (or any other herb to your taste)
1 tsp baking soda
1 tsp salt
Instructions
Preheat oven to 190C/375F/Gas Mark 5
Blitz walnuts and seeds in a blender until coarsely powdered
Mix blended walnuts and seeds with almond flour, baking soda and salt
Lightly whisk egg whites and mix with melted coconut oil
Mix all ingredients together thoroughly, add chopped rosemary leaves
Get two sheets of baking paper, same size as your baking tray
You want the mixture to be very thin: 2-3mm or so. I had to use 2 baking trays for the amounts above.
Remove the top sheet of baking paper, leaving just the first sheet with the mixture spread out thinly on top.
Make lines in the rolled out dough with a knife or a stick, to separate it into individual crackers.
Stick in the oven and bake for about 20 minutes, or until golden and crispy.
Nutritional information
Serving size: 1 cracker (assuming 48 are made from the amounts listed above)
Per cracker:
54
calories,
0.5g
net carbs,
5g
fat,
2g
protein
Recipe by Margarita White (@Carbophobic), published on
---
Recommended Low-Carb Cookbooks
Do you need more recipes for low-carb biscuits, crackers and bread?
Check out these great low-carb cookbooks.