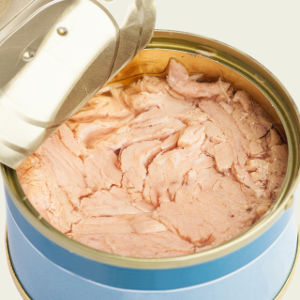 Canned tuna is a great source of protein. It is cheaper than meat of fresh fish. That's the good part.
But as we all know, it is not the most exciting food in the world.
Here are some suggestions on how to jazz up a humble tin of tuna into something more fun.
These suggestions are all low-carb and very simple – maximum 3 ingredients.

Mayonnaise has been excluded from this list, because we all know about that. Plus, let's face it, shop-bought mayo is not the most wholesome food in the world.
Let's jazz up that tuna!
Start with a drained tin of tuna
Add the ingredients as suggested below (vary quantities to suit your taste)
Season with salt and pepper
1
Large avocado, mashed +
Lemon juice or vinegar
2
Cottage cheese +
Chopped spring onions
3
Ricotta cheese +
Green or black olives +
Chopped basil
4
Roasted aubergine, mashed +
A drizzle of vinegar +
A bit of crushed garlic
5
Chopped hard-boiled egg +
Soured cream
6
Fried mushrooms +
Fried onions +
Chopped coriander
7
Thin slices of chorizo, fried +
Tinned tomatoes
8
Grilled pork sausage, sliced +
Sliced fresh tomato
9
Fried pancetta or bacon +
Fried onion +
Chilli flakes or powder
10
Chopped gherkins +
Dijon mustard
11
Greek yoghurt +
Fresh tomatoes +
A bit of crushed garlic
12
Crumbled Feta cheese +
Balsamic vinegar +
Olives
13
Grilled bell pepper +
Grated parmesan +
Sun-dried tomatoes
14
Soft-boiled egg +
Sliced gherkins +
Parma ham
15
Fresh cucumber +
Grated green apple +
Soured cream
General ideas for creating further combinations
Make It Tangy – Add Sauces, Condiments, Pickles
• Balsamic vinegar
• Red or white wine vinegar
• Dijon mustard
• Lemon juice
• Olives
• Gherkins
Make It Spicy – Add Herbs and Spices
• Salt and black pepper
• Paprika
• Chilli powder or flakes
• Garlic
• Spring onions
• Coriander
• Basil
Make It Creamy – Add Dairy and Eggs
• Greek yoghurt
• Cottage cheese
• Soured cream
• Riccotta
• Grated parmesan or cheddar
• Feta cheese
• Eggs
Make It Fresh – Add Vegetables and Fruit
• Peppers (fresh or roasted)
• Aubergines (roasted and mashed)
• Avocado (mashed)
• Onions (fresh or fried)
• Tomatoes (fresh, tinned, sun-dried)
• Mushrooms (fried)
• Cucumber (fresh)
• Apples (fresh)
Make It Meaty – Add Meats and Sausages
• Chorizo sausage
• English pork sausage
• Pancetta or Bacon
• Parma or Serrano Ham
If you know of any other combination or ingredients that would work well with a tin of tuna, please leave a comment below.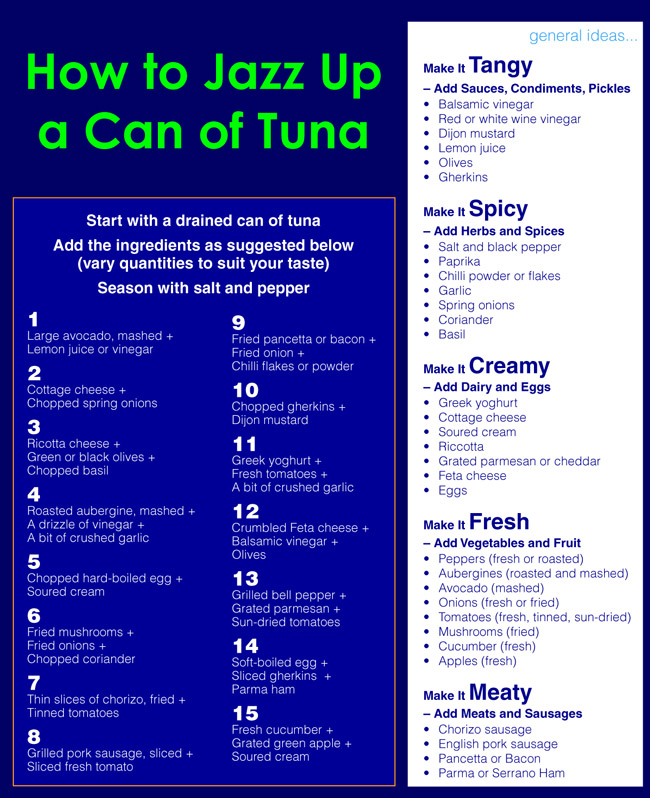 Great breakfast recipe with tuna – spicy firtattas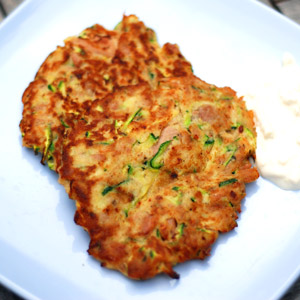 Spicy tuna fritattas – Get the recipe
Do you need more recipes and snack ideas?