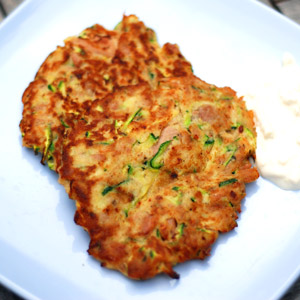 Wondering what to have for breakfast? Low-carb frittatas and pancakes are quick and easy to make.
Have them the low-carb way by using coconut or almond flour instead of wheat flour, and bulk them up with low-carb vegetables.
Grated zucchinis (courgettes) with an egg or two, plus a bit of coconut or almond flour work really well. In this recipe, I am also adding a tin of tuna to boost protein content and make these frittatas into a complete meal.
Spices are essential – they might taste a bit bland otherwise!
Cooking with zucchinis
Zucchinis are a great low-carb ingredient. The only point to remember is that they contain a lot of moisture.
When cooking or baking with zucchinis, try to make them a bit less wet first, so that your recipe doesn't come out all soggy.
Add some salt to grated zucchinis and leave them to sit for 20-30 minutes. Then squeeze out excess moisture – you can either:
put them in a colander and press with a bowl or a plate, or
press down on them with a paper towel, or
wrap them in a tea towel and squeeze
Spicy low-carb frittatas with tuna and zucchini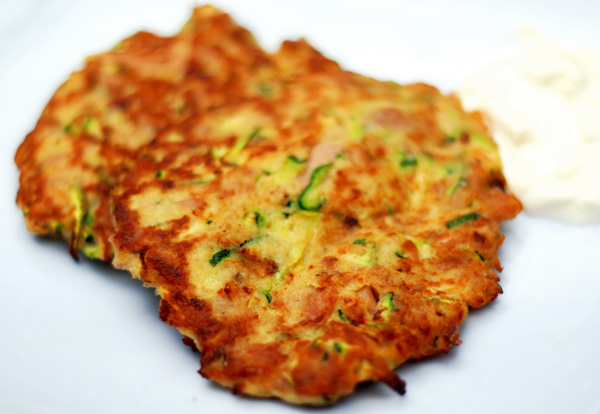 Grated zucchinis with tuna, eggs, chillies and a bit of coconut flour
Prep time: 5 min | Cook time: 10 min | Total time: 15 min
Yield: 6 frittatas
Ingredients
1 tin of tuna in olive oil – 115g (3oz)

1 large grated courgette (aka zucchini) – 200g (7oz)

2 large eggs

1 tbsp (15g / 0.5oz) coconut flour
2 tsp dried chili flakes or 1 whole fresh chili, finely chopped and fried
(this bit is important – recipe won't taste as nice without spices)

salt and pepper

Optional 1/8 tsp xanthan gum or guar gum or 1 tbsp psyllium husks
These are optional, but would help to improve the texture
Instructions
Open the tin of tuna, don't drain, flake tuna into small bits
Grate zucchinis, squeeze out excess moisture
Add tuna, eggs and zucchinis together and mix together thoroughly
Combine coconut flour with spices and other dry ingredients and add to the tuna mixture
If using fresh chilies, chop finely and fry for 1-2 minutes before adding to the mix
Mix everything together thoroughly
Leave to stand for 5 minutes or so – coconut flour will absorb moisture and make the mix more sticky
Heat a little bit of oil in a frying pan
Use a large spoon to add mixture to the pan (amounts listed above make 6 large pancakes) and form flat round pancakes, aim for about 5mm (1/5 inch) thick. If they are thicker, that's ok too – but you might need to cook them for longer.
Fry on a medium heat for about 5-7 minutes on each side, or until golden brown.
Nutritional information
Serving size:
1 frittata
(1/6 of the whole recipe)
Per serving:
105
calories,
2g
net carbs,
8g
fat,
7g
protein
Recipe by Margarita White (@Carbophobic), published on
Do you need more low-carb breakfast recipes?