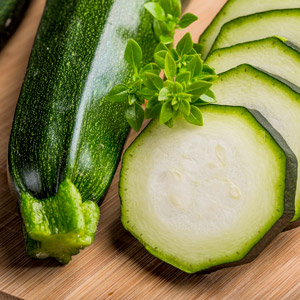 Zucchini – also known as courgettes or summer squash – are very low in carbs.  They clock up only 2g net carbs per 100g (3.5oz).
Zucchinis are very versatile. They make a perfect side dish for low-carb meals.
They also make a great sub for some high-carb ingredients. For example, you can use grated zucchinis in low-carb baking, or make zoodles instead of pasta.

Here are some ideas on how to include zucchinis to your low-carb diet.
Low-Carb Zucchini Recipes
All photos listed below belong to the respective blogs where the corresponding recipe is published.
1. Roast
Slice zucchinis, drizzle with oil, and stick in the oven for 20-30 minutes, or until soft and browned. Jazz them up with cheese, spices and herbs, or mix with other low-carb vegetables.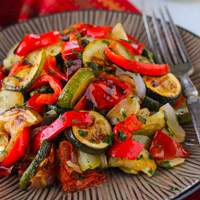 Roasted Zucchini, Tomato and Peppers
Recipe by Olga's Flavour Factory
2. Grill
Grilling zucchinis works as well as roasting, and is a bit faster.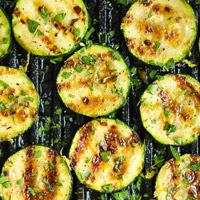 Grilled Lemon Garlic Zucchini
Recipe by Damn Delicious
3. Pan-fry
Slice into discs and pan-fry with some oil for about 5-10 minutes on medium-high heat. Grating zucchinis instead of slicing also works well when fried.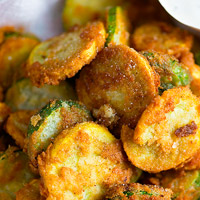 Fried Zucchini with Parmesan
Recipe by Buns in My Oven
4. Add to salads
When in season (late summer – early autumn), fresh zucchinis taste lovely just as they are, without any cooking required. The texture is crunchy, with a hint of sweetness in the taste.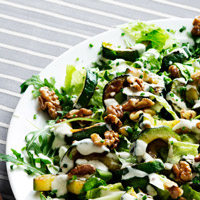 Zucchini and Walnut Salad
Recipe by Diet Doctor
5. Baked parmesan "fries"
Parmesan "fries" made from zucchinis help to fill the gap where potato fries used to be.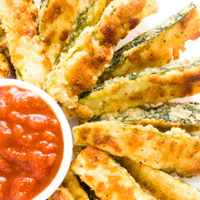 Crispy Parmesan Zucchini Fries
Recipe by Wholesome Yum
6. Potato substitute for bakes, casseroles and stews
Use zucchinis instead of potatoes in bakes and casseroles.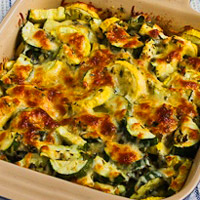 Easy Cheesy Zucchini Bake
Recipe by Kalyn's Kitchen
7. Zucchini soup
Zucchinis make good companions for cream and cheese in rich-tasting soups.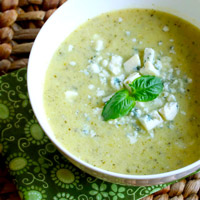 Cream of Zucchini Soup with Gorgonzola
Recipe by Daring Gourmet
8. Zucchini noodles – "Zoodles"
Cut zucchinis in very thin strips, or use a spiralizer tool. Get the excess moisture out – add salt, leave for several minutes, then press with paper towels – this helps to create firmer texture. Steam or stir-fry zoodles with a little oil, for several minutes or until soft. Boiling is also possible, but it adds more water to the texture and can make your noodles soggy.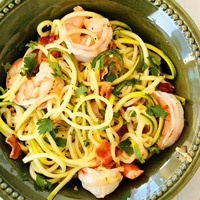 Bacon and Shrimp Zucchini Noodles
Recipe by Inspiralized
9. Pasta sheets
Slice zucchinis lengthways into thin slices. Use instead of pasta sheets in lasagna recipes.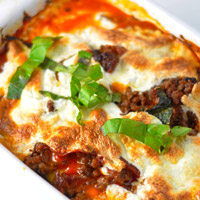 Low-Carb Lasagna
Recipe by Modern Low Carb
10. Wrapping for fillings
Slice zucchinis into thin wide slices, cook until soft, and use to wrap up meaty or cheesy fillings.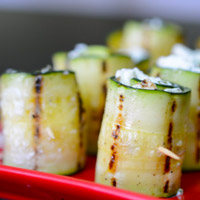 Zucchini and Goat Cheese Wraps
Recipe by Caveman Keto
11. Mini-pizza bites
Cut a large zucchini into discs, top up with tomato sauce, meat and cheese for a low-carb mini-pizza.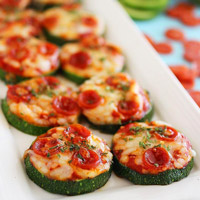 Zucchini Pizza Bites
Recipe by The Comfort of Cooking
12. Zucchini chips
You can't have any potato crisps (aka chips in the USA) on low-carb, but zucchinis can help you with that. Cut up into thin slices, coat with oil and bake at a low temperature until thin and crispy.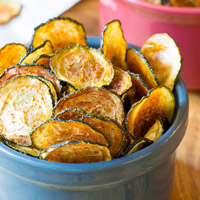 Zucchini Chips
Recipe by A Spicy Perspective
13. Zucchini fritters
Grate zucchinis, squeeze out excess moisture, mix with shredded cheese, a couple of eggs and a spoonful of coconut flour, and fry.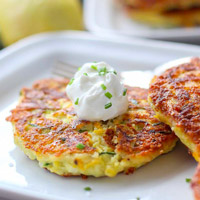 The Easiest Zucchini Fritters
Recipe by Low Carb Maven
14. Low-carb zucchini bread
You can add zucchinis to recipes for low-carb breads, both sweet and savoury. Bear in mind they have quite a lot of moisture, so think of them as a "wet" baking ingredient.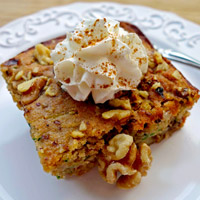 Low-Carb Zucchini Walnut Bread
Recipe by Gourmet Girl Cooks
15. Low-carb cakes, brownies and muffins
Zucchinis can even transfrom into a low-carb dessert!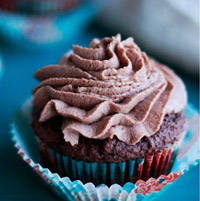 Chocolate Zucchini Cupcakes
Recipe by I Breathe I am Hungry, 3.5g net carbs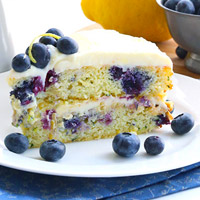 Blueberry Zucchini Cake
Recipe by All Day I Dream About Food, 6.6 g net carbs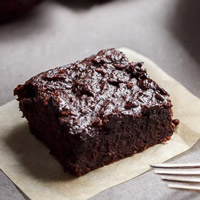 Low-Carb Zucchini Brownies
Recipe by Cafe Delites, 4g net carbs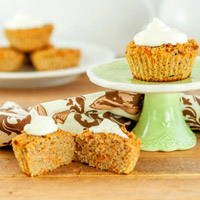 Carrot Cake Zucchini Muffins
Recipe by Beauty and the Foodie, 2g net carbs
---