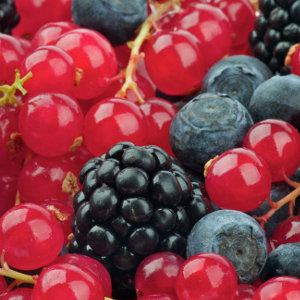 Berries are the perfect low-carb treat.
Although sweet-tasting, their sugar content is much lower than that of most fruit.
Berries are in season now, and this year's late spring resulted in a bumper crop in many countries. Make the most of it while it lasts!
Berries' carb count is within the range of 5-12g net carbs per 100g, which is acceptable for most low-carb diet plans.
You can even get away with berries on a ketogenic diet – but make sure to count carbs diligently.
Unfortunately, berries are not included in phase 1 of Atkins, but you can add them from phase 2 onwards.
Net carbs in berries
Here's a summary of carb counts for some popular berries.
| Per 100g (3.5 oz) | Total carbs (g) | Fibre (g) | Net Carbs (g) | Calories |
| --- | --- | --- | --- | --- |
| Blackberries | 10 | 5 | 5 | 43 |
| Strawberries | 8 | 2 | 6 | 33 |
| Raspberries | 12 | 6 | 6 | 53 |
| Gooseberries | 10 | 4 | 6 | 44 |
| Currants (red and white) | 14 | 4 | 10 | 56 |
| Blueberries | 14 | 3 | 11 | 57 |
| Cherries (sweet) | 16 | 2 | 14 | 63 |
Ways to have berries
…apart from the obvious one of just eating them raw as they are – which is always good!
With whipped cream
Add some whipped cream plus a dash of sweetener (such as Stevia or Splenda) to fresh strawberries for a quintessential British summer dessert
Make ice-cream
Add berries to low-carb ice-cream
Add to low-carb baked goodies
Add crushed berries to low-carb pancakes and muffins
As a smoothie
Blitz berries in a blender with single cream or soya milk to make a low-carb smoothie
With protein shakes
Add crushed berries to your protein shake
Dipped in chocolate
Dip strawberries in melted unsweetened chocolate and let cool
Add to cocktails
Make low-carb berry cocktails by mixing them with sparkling wines and other low-carb alcoholic beverages
As a strawberry mousse
Mix strawberries with double cream, 2-3 egg whites and Truvia (or a similar sweetener), blitz in a blender and chill
Low-carb berry recipes
Here are some of my recipes with berries:
More low-carb berry recipes
Here are some further low-carb recipes round-ups on other blogs.
21 Delicious Low-Carb Blueberry Recipes by Low Carb Yum
39 Splendid Low Carb Strawberry Recipes by All Day I Dream About Food