Cranberry theme continues today with this low-carb biscotti recipe. Biscotti (also known as cantuccini) are crunchy, twice-baked biscuits that are perfect for dunking.
Traditional recipes use wheat flour, whole almonds and pine nuts, and these days all sorts of nuts and fruit are used to jazz up the recipe. Our version today will use almond flour as base, and include pistachios and cranberries.
Pistachios are higher in carbs than other nuts, but the flavour works really well in this recipe, and the total carbs count is still about 1.5g net carbs per biscuit (although admittedly, it might be hard to eat just one and leave it at that). If you would like to lower the carb content further, substitute pistachios with other nuts like whole almonds, hazelnuts or walnuts.
In Italy, biscotti are often served with dessert wine, for dunking. Unfortunately, dessert wines are high in sugar so best to avoid them when on a low-carb diet. You can dunk your biscotti in tea or coffee instead, it is still quite satisfying!
Points to watch out
Biscotti are baked twice – first you will bake a thin loaf until just cooked through, then slice it into individual biscuits, and bake again until they are golden and crunchy.
Use a very sharp knife when cutting biscotti after the first baking stage, and do it by pressing down hard rather than going back-and-forth, to minimise crumbling.
I recommend using xanthan gum or something similar (guar gum, psyllium husks) as this will improve texture. If you don't have these ingredients available, go ahead without them but be very careful when cutting the loaf. Once biscotti are fully cooked and cooled, you can stop worrying about this aspect.
Choosing cranberries
You can use either dried, fresh or defrosted cranberries for this one. Fresh ones contain a bit of moisture, but this will dry out during the second stage of baking anyway. If they are very big and juicy, you can dry them out in the oven a bit first before making biscotti.
Low-carb biscotti with cranberries and pistachios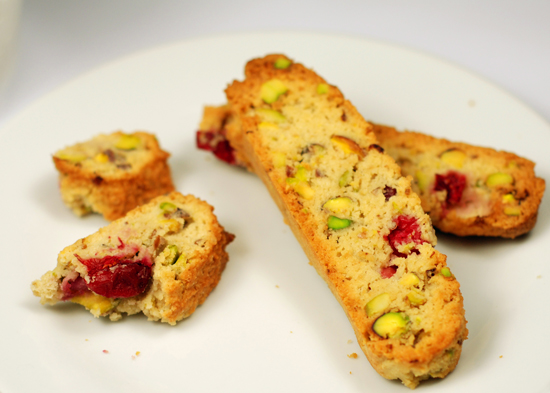 Biscotti are crunchy, twice-baked biscuits that are perfect for dunking. Our low-carb version uses almond flour as base, jazzed up with pistachios and cranberries.
Yield: 20 biscuits
Ingredients
2.5 cups (270g / 9oz) ground almonds
1 cup (90g / 3oz) shelled pistachios (or other nuts), chopped roughly
100g (3oz) cranberries, fresh or dried
1/2 cup (75g / 2.5oz) Truvia or similar granulated sweetener
1.5 tsp baking powder
1 small pinch of salt
1/4 tsp xanthan gum – optional
3 large eggs
1 tbsp sugar-free vanilla extract
Instructions
Preheat oven to 190C/375F/Gas Mark 5
Mix dry ingredients together thoroughly – almond flour, pistachios, Truvia, baking powder, salt, xanthan gum
Lightly beat eggs and mix with vanilla extract
Combine wet and dry ingredients and mix thoroughly to form dense, sticky dough
Fold in the cranberries
Line a tray with baking paper and transfer the dough onto it
Form a rectangular or oval loaf with your hands, about 1 inch (2.5cm) thick
Bake for about 20-30 minutes, until it just starts to brown and is firm to the touch
Take out of the oven and cool for about 10-15 minutes
Turn the oven temperature down to 150C/300F/Gas Mark 2
Carefully slice up the loaf into thin slices (I ended up with 20 total)
Place the slices onto a wire rack and put back into the oven
Bake for further 20-30 minutes, until golden brown on both sides and firm in texture
Let cool completely before eating
Nutritional information
Serving size: 1 biscuit (assuming 20 are made from the amounts listed above) Per biscuit: 140 calories, 1.5g net carbs, 11g fat, 6g protein
Cookbooks for low-carb baking and desserts
Do you need more low-carb baking and dessert recipes?
Check out these great cookbooks:
---