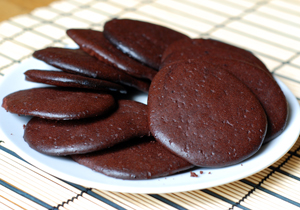 As much as I love baking with low-carb flours (usually almond or coconut), sometimes you can get away without using any flour at all.
This recipe for low-carb, gluten-free chocolate biscuits is completely flourless – basically you just use cocoa powder instead. You can't go wrong with that much cocoa!
It takes about 20-25 minutes total to prepare and bake. Carb count is less than 1g net carbs per biscuit.
Sugar-free cocoa powder – safe brands
I use Green & Black unsweetened cocoa powder in my recipes – I think it's the best option if you are in the UK.
In the USA, good brands for high-quality unsweetened cocoa powder are Valrhona and Ghirardelli.
If you use a different brand, just make sure it doesn't have any added sugar.
Toppings
One good suggestion from Reddit was to put some ganache or cream topping on the biscuits.
Have a look at this keto mousse or mascarpone mousse – both could make a great topping.
WARNING – before you start
Most of the feedback I got for this recipe is very positive.
But for some people, it turned out a bit tricky. Please watch the video below, or read the comments at the end of this post to see the sort of issues people came up against.
Please note:
Use the exact ingredients listed in the recipe. If you make any substitutions, there is no guarantee it will work.
Definitely don't use sweetener drops instead of granulated sweetener. That doesn't work – you need the bulk of the granulated sweetener for texture.
Ingredient quantities are included by weight in grams rather than cups/tbsp – this is deliberate, to keep the recipe more precise. If you try to estimate quantities in tbsp instead, you might get it wrong and the recipe won't work.
If the mixture turns out too runny to lay out on a tray, try adding 1 more tbsp each of sweetener and cocoa. It's important to add both at the same time, as the flavours balance each other out.
Video of this recipe
Lovely Manda Panda made a video of this recipe – check it out on YouTube.
Low-carb flourless chocolate biscuits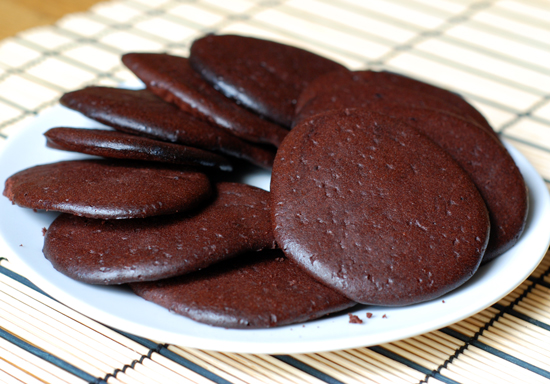 Low-carb chocolate cookies, made without any flour – just lots of sugar-free cacao powder, butter, eggs and cream cheese (plus sweetener).
Prep time:10 min | Cook time:15 min | Total time:25 min
Yield: 12 biscuits
Ingredients
For the biscuits
Instructions
Preheat oven to 190C/375F/Gas Mark 5
Mix cream cheese with Truvia and blend until smooth
Lightly beat the eggs and mix with softened butter and vanilla extract
Add the egg mixture to cream cheese and mix well until no lumps
Gently fold in cocoa powder
Line a baking tray with baking paper
Spoon out the mixture into round mounds – they will flatten in the oven
Bake for 10-15 minutes (some people reported overbaking, so please keep checking them frequently)
Let cool completely, biscuits will get more crispy when cool
Nutritional information
Serving size: 1 biscuit (assuming 12 are made from the amounts listed above)
Per biscuit: 75 calories, 0.8g net carbs, 7g fat, 3g protein
Recipe by Margarita White (@Carbophobic), published on
Cookbooks for low-carb baking and desserts
Do you need more low-carb baking and dessert recipes?
Check out these great cookbooks: