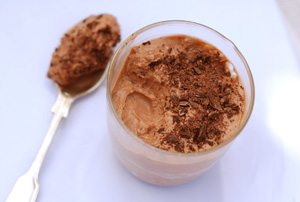 This Keto chocolate mousse recipe is basically a chocolate-flavoured fat bomb. Super-easy to make, with only a few simple ingredients required.
You can eat it on its own as a really decadent dessert, or use as a filling for cakes.
It is very rich and filling, so you only need to a little bit to satisfy even very strong chocolate cravings!

Sugar-free cocoa powder – safe brands
I use Green & Black unsweetened cocoa powder in my recipes – I think it's the best option if you are in the UK.
In the USA, good brands for high-quality unsweetened cocoa powder are Valrhona and Ghirardelli.
If you use a different brand, just make sure it doesn't have any added sugar.
Granulated sweetener work better than drops
I recommend using a granulated sweetener, like Truvia or Swerve.
Liquid sweetener drops can work too, but some people reported problems with texture and bitter taste when using drops.
Keto Chocolate Mousse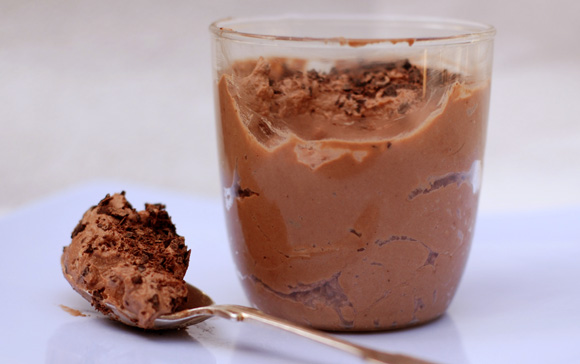 Super-rich and creamy keto dessert
Prep time:5 min | Yield: 3 servings
Ingredients
Instructions
Leave butter at room temperature until softened (or blast in the microwave for 10-15 seconds if you haven't got the time)
Mix butter with sweetener, keep mixing until completely blended
Add cream cheese, blend completely into a smooth mass
Add cocoa powder, blend completely
Whip double cream and gradually add to the rest of the mixture, mixing well
Taste the mixture - add a bit more sweetener or cocoa powder if you like, it shouldn't affect the texture
Spoon into small glasses and decorate with shavings of dark chocolate
If you have the time, stick it in the fridge for 30 mins or so - it will taste even nicer.
Nutritional information
As mentioned, this is a bit of a fat bomb!
Serving size: 1 serving (1/3 of the mix using ingredients quantities above) Per serving: 335 calories, 1.5g net carbs, 37g fat, 2g protein For the total mixture, using amounts listed above: 1010 calories, 4.5g net carbs, 7g protein, 110g fat
---
Recipe by , published on
Keto Chocolate Mousse – Variations and substitutions
This Keto Chocolate Mousse recipe was first posted in 2013. Since then, I received hundreds of comments from people who tried it, as well as amazing variation ideas. I selected my favourites below, and you can also scroll down to the end of the page to read all comments.
Ideas for different flavours
"I made this last night, used stevia drops, added a small bit of peanut butter and a shot of espresso. Came out awesome! (even before my additions)." – Bianca
"Tried it first w cocoa but didn't care for it, so today I made it again with fresh vanilla bean, extra cream cheese, and a bit of salt and it is amazing. Tastes like creme brulee." – knox82
"Just had one without cocoa powder but added 2 strawberries. It was delish." – Cynthia
"loved it. I used sugar free hazelnut syrup and ground instant coffee, then froze in bite sized cubes. perfect for after dinner" – Steffanie
"After making this for a while I got bored with chocolate. So I try and replaced the cocoa powder with Cheesecake Sugar free pudding mix (1.5 Tbs.). What a nice change!! Butterscotch works well too." – Gscrubs
"I just want to mention the next day, I added some all natural peanut butter with no sugar added type and it was to die for. it now tastes like a Reese's which I love but will not eat because it's not keto and it's for chemicals so now thankfully I have this recipe. I am addicted to this." – Diana C
Substitutions for butter/cream base
"I made this tonight for dessert – using coconut milk whipped cream, and it was EXCELLENT! Thank you!" – Stacy @Stacy Makes Cents
"Use mascarpone instead of cream cheese to make it even better. I accidentally put in coconut powder and it turned out to be awesome as well" – Tomaž Zaman
"Thank you for the recipe! I wanted to use less butter so I did half butter and half coconut oil, and it is very tasty." – Peih-Gee
"This so hits the spot. I did 1 oz butter and 3oz cream cheese and added a dollop of sour cream and it is sooooo good. I've had a scoop (or 2 *whistles innocently*) every night and still losing 1lb a day! This has saved me from cheating!!!!" – Les
Minor tweaks
"I used Hershey Special Dark Baking Cocoa and it was perfect for the amount of chocolate flavor" – Julie
"I just made this. It was great! I loved the mouthfeel – it was such a treat. I divided the recipe into 2 cups and it was a good portion. I used 1 T and 1 t of cocoa, a dash of salt, vanilla, and I sweeteened it with 1 T of erithritol and some drops of stevia. I enjoyed it with some Dr. Brown's diet black cherry soda which really complemented the mousse." – Susan Steinberg
"This recipe was amazing. I didn't have artificial sweetener so I took one of the suggestions to add coconut oil and another to add vanilla and a little less than a pinch of salt." – James H
"Just made this tonight. I omitted the butter and used a little extra cream. I added an extra tsp of cocoa. I used liquid stevia because that's what I had on hand. The texture turned out wonderfully creamy, and the flavor very good, but it was a little too bitter for me even though I added the pinch of salt that someone recommended. (Maybe it was my liquid stevia that caused the bitterness?) I was trying to think what I could add to counteract this and I saw the sour cream. I know that sounds weird, but I folded in 1&1/2 TBSP and it took down the bitterness and almost gave it a hint of chocolate creme fresh. Very, very good!" – Chris
Turn it into a drink
"I made this the other night and loved it! Tonight I made it again, but added almond milk and turned into a shake." – JT
"I'm back! Today I dropped one of these in a cup of coffee and pulsed in blender. OMG!!!! Mocha Cappuccino!!! It was amazing!!! I added a little more Swerve." – TW
Keto Chocolate Mousse – YouTube Video by MNDRZ
Lovely MandaPanda made a YouTube video of this recipe – check it out!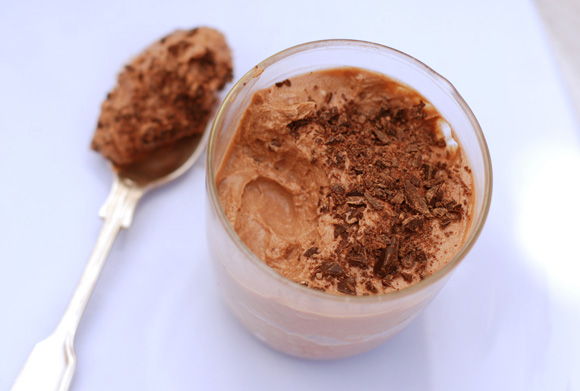 Keto mousse – Similar recipes
If you enjoyed this recipe, try my other recipes based on this Keto mousse: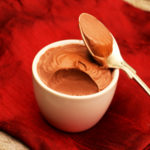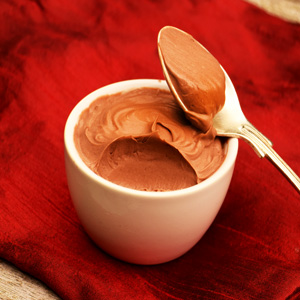 Keto Mascarpone Mousse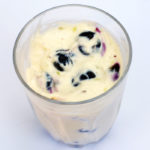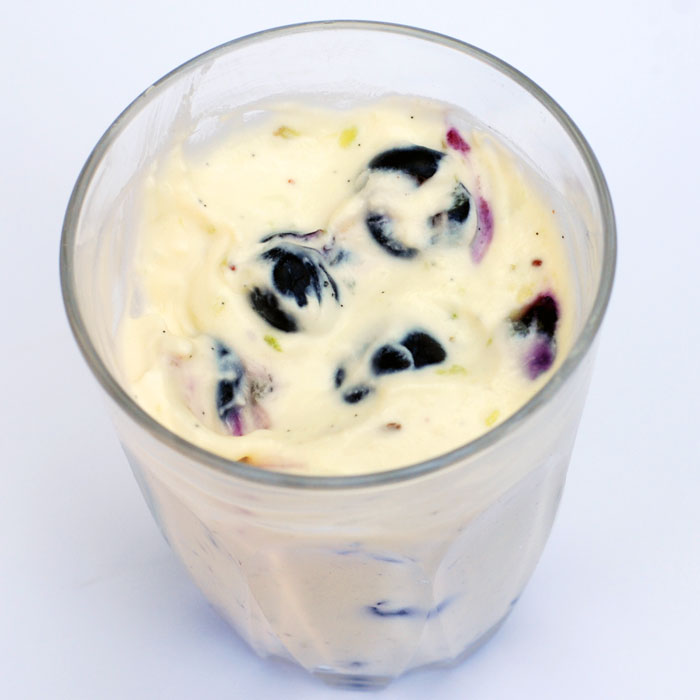 Blueberry Keto Mousse