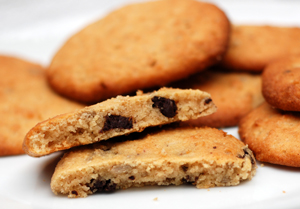 Peanut butter is a great low-carb ingredient.
It contains about 7g net carbs per 100g, but you would typically only use 1-2 tbsp in a dessert recipe, so in total it would only contribute about 1-2g to your carbs count.
This obviously applies to unsweetened peanut butter – check the label to ensure they haven't sneaked in any sugar or other nasties.
While it is sometimes very satisfying to have just a spoonful of peanut butter on its own, you can also use it for low-carb baking and desserts.
This recipe for low-carb peanut butter cookies is a basic version which you can jazz up by adding chocolate chips, other seeds and nuts and sugar-free spreads.

Low-carb peanut butter cookies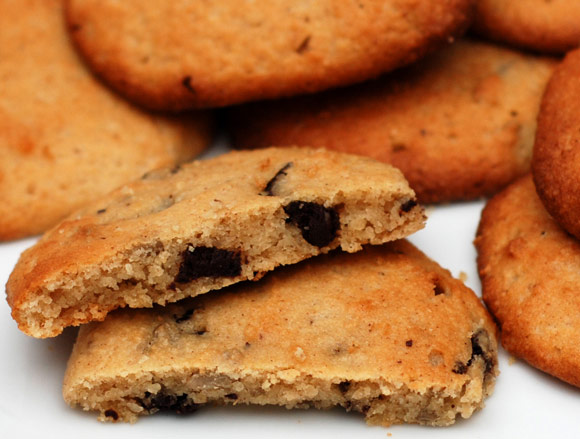 Low-carb peanut butter cookies with chocolate chips
Ingredients
1 cup (90g / 3oz) of ground almonds
3 tbsp Truvia
1/2 tsp baking powder
30g (1oz) butter, at room temperature
1/2 cup milk (120ml / 4oz)
1 large egg, beaten slightly
3 tbsp (60g / 2oz) sugar-free peanut butter
Optional ingredients:
2 tbsp sunflower seeds (or other seeds or chopped nuts)
2 tbsp sugar-free chocolate chips
(I make mine by roughly chopping blocks of unsweetened baking chocolate
Low-carb peanut butter cookies – Method
Preheat oven to 190C/375F/Gas Mark 5
Mix all the dry ingredients together thoroughly, including chocolate chips and seeds if using
In a separate bowl, mix softened butter with peanut butter, add beaten egg, milk and vanilla extract, and combine until completely smooth
Combine wet and dry ingredients and mix thoroughly
Grease a baking tray or line it with baking paper
Spoon out the cookie mixture onto the tray
Bake for about 20 minutes or until golden
As is often the case with low-carb baking, these taste better once cooled!
Low-carb peanut butter cookies - Nutritional information
For the total amount listed above (including chocolate chips and sunflower seeds extras): 1200cal, 18g net carbs, 108g fat, 45g protein
Assuming 10 cookies are made from the amounts listed above, per
1 cookie
:
120
cal,
1.8
g net carbs,
11g
fat,
4.5g
protein.