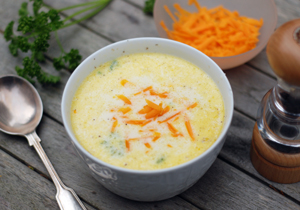 It's cold outside – time to make hearty soups and stews! This cauliflower soup recipe is very simple, but utterly delicious.
Basically, you just need to boil cauliflower in stock, add lots of fat (in form of cream and cheddar cheese) and season!
This is an expanded recipe from the classic low-carb cauliflower dishes round-up earlier this year.
By the way – the orange bits on the photo come from grated Red Leicester cheese, which is similar to cheddar. They are not carrots!

Good-quality stock is the foundation of a good soup
Before we get to the actual recipe, let's talk about stock.
Without a doubt, making your own stock at home is much better than buying it ready-made from a shop. And I hope you would never resort to the horror of using stock cubes – that is just wrong on so many levels.
Making your own stock (or indeed any other food) from scratch ensures that you know exactly what goes inside! You can ensure that it has no added carbs or ghastly taste-enhancing chemicals.
If you never tried making your own stock, it might seem like a daunting prospect (one of my Twitter followers was once absolutely freaked out by this suggestion), but in reality, nothing could be simpler.
You just need to save any leftover bones (pretty much anything will do – roast chicken, beef, lamb, fish), and boil them with water. That's pretty much it!
You can season it and add nice herbs like bay leaf or bouquet garni, but that's optional.
Some people also add vegetables such as carrots, celery and onions, that are later discarded, but if you are following a low-carb diet, you can skip this, ensuring no extra smithereens of carbs sneak into your stock.
Simple cauliflower soup with cheddar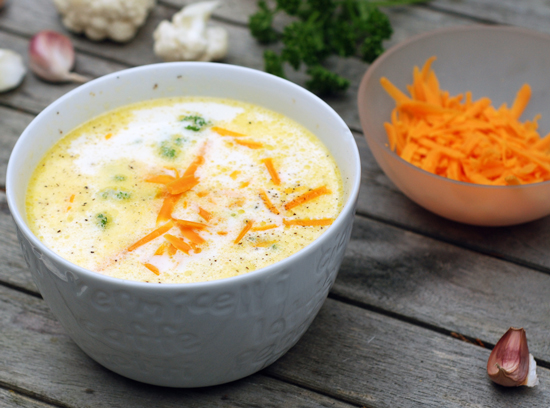 Creamy and rich cauliflower soup with cheddar - low carb and high fat.
Prep time: | Cook time: | Total time: Yield: 6 servings
Ingredients
2 pints of chicken or meat stock (about 1 litre, or 4 cups)
1 large cauliflower (800g / 1.7 lbs)
200 ml (7oz) double cream (that's heavy cream in the US)
100g (3.5 oz) cheddar
2 cloves of garlic (optional)
Coarsely ground pepper
Small pinch of nutmeg
Salt to taste
Instructions
Heat up the chicken stock
Chop up cauliflower and garlic (if using) into small bits
Add chopped cauliflower and garlic to stock
Simmer for 10-15 minutes, until cauliflower is very soft
Add double cream and grated cheddar
Season with salt, pepper and nutmeg to taste
Cool and blitz in a food processor
Nutritional information
Serving size: 1 bowl (1/6 of the soup made using the amounts above) Per serving: 290 calories, 4g net carbs, 25g fat, 10g protein
Recommended cookbook
Do you need more low-carb soup recipes?
Check out this cookbook – Low Carb Soups & Stews
View the book on Amazon
---