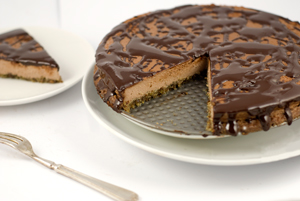 Cheesecake is the sort of recipe that's very easy to adapt to low-carb. Its primary ingredient – cream cheese – is naturally quite low in carbs.
Sugar and flour don't play a very important role and can be substituted easily with low-carb equivalents.
This low-carb version of a classic chocolate cheesecake tastes great, is sugar-free and gluten-free, and clocks up only 4g net carbs per serving. 
Cheesecake options
New York style vs Italian style. In this recipe, I am going for the more common New-York style cheesecake, which uses cream cheese for the filling (Italian-style cheesecakes use ricotta or cottage cheese). They might as well have called this option Philadelphia-style rather than New York, because let's face it, that's the brand of cream cheese most of us will be using.
Baked rather than no-bake. There are some recipes for no-bake cheesecake, but I think baked versions taste nicer and fluffier, well worth the extra time and effort in my opinion.
Chocolate-flavoured. If you read my blog regularly, you'll know that for me there is no contest when it comes to deciding on the flavour. So I will be adding sugar-free cacao powder to the filling and using melted sugar-free chocolate for glazing, but you can easily adapt my recipe to make a version with fruit or berries instead.
Almond flour and flax for the crust. There are many recipes for low-carb cheesecake crusts. I prefer using the mixture of almond flour and flax meal. Flax adds fibery crunch to the texture which I think makes it more similar to digestive biscuits used in traditional recipes. if you don't like flax, you can substitute with any other ground nuts or seeds.
Key points to note about making cheesecake
The following factors are important for your cheesecake quality – do not compromise on these.
Use proper full-fat cream cheese – not reduced-fat or reduced-calorie impostors. Hopefully you would do this anyway, but this is really important for the cheesecake texture.
Bring all your ingredients to room temperature before cooking, this is especially important for the cream cheese and eggs.
When preparing the filling, make sure that you blitz everything together into a completely smooth mixture, without any floating lumps. However, take care not to overbeat too much, as this may cause cracks when your cheesecake is baking (although if this happens, you can masquerade cracks with chocolate glazing or other decorations)
Bake the cheesecake slowly on low temperature, let it cool completely and refrigerate for the required time. Don't be tempted to speed up this process – it won't be to your cake's advantage.
Sugar-free cocoa powder – safe brands
I use Green & Black unsweetened cocoa powder in my recipes – I think it's the best option if you are in the UK.
In the USA, good brands for high-quality unsweetened cocoa powder are Valrhona and Ghirardelli.
If you use a different brand, just make sure it doesn't have any added sugar.
Not-so-important points that can be varied
The amount of sweetener – sugar or sugar substitutes don't play have a key part in the chemistry of this recipe, so you can increase or decrease the amounts listed below depending on your taste. I don't like mine to be too overwhelmingly sweet, so I probably use less sweetener than most people would.
Filling thickener – in traditional recipes, flour or gelatin can be added to filling to bulk it up a bit. For low-carb options, you can use coconut flour or xanthan or guar gum – they would improve the texture a bit, but this part is not crucial. You can actually just bypass thickeners – the filling turns out fine using just cream cheese, cream and eggs.
Low-carb chocolate cheesecake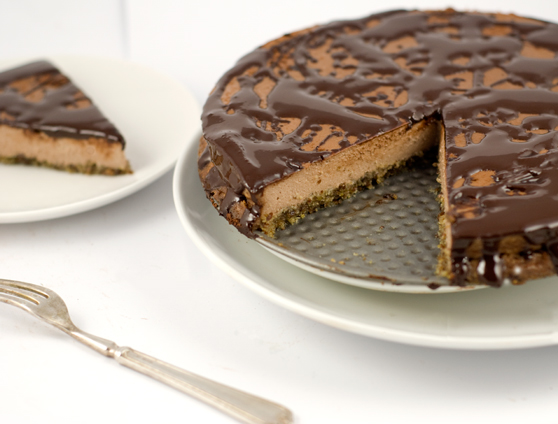 Low-carb, sugar-free chocolate cheesecake with chocolate drizzle
Ingredients
For the crust
Instructions
Take your ingredients out of the fridge to bring them to room temperature
Make the crust first
Preheat oven to 190C/375F/Gas Mark 5
Mix together dry ingredients for the crust
Melt butter, add the crust mixture to it and combine well
Grease 9-inch springform cake pan and press your crust mixture to the bottom
Bake for 15-20 minutes
Take out the crust and lower the temperature to 150C/300F/Gas Mark 2
Make the filling
Beat cream cheese thoroughly with Truvia until smooth
Add eggs one by one and mix them in thoroughly
Add sour cream, vanilla extract and cacao powder, mix well
Put 2-3 tbsps of the mixture into a separate bowl, add xanthan gum, mix into a smooth paste
Add the paste back to the filling mixture and mix well
The mixture will be quite liquidy at this point – don't worry as it will solidify during cooking
Place your springform pan on top of a baking tray and pour the filling into it
Put in the oven and bake for 45-60 minutes
Check your cheesecake regularly – when the edges are set and looked puffed up, it's time to let it cool. The centre will look soft and caved in, but this will even out.
Switch off the oven and let it cool completely with the cheesecake inside.
Take it out, stick in the fridge for another 3-4 hours, or overnight
Decorating (optional)
Decorate with sugar-free melted chocolate
Nutritional information
1 slice (1/10 of the cheesecake)Per slice: 342 calories, 4g net carbs, 32g fat, 9g protein
Recipe by Margarita White (@Carbophobic), published on
Cookbooks for low-carb baking and desserts
Do you need more low-carb baking and dessert recipes?
Check out these great cookbooks: