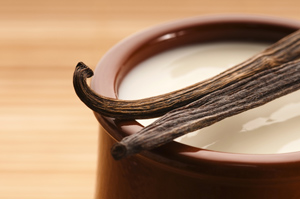 Atkins Induction is the first stage of Atkins, designed to break addictions to sugary foods and reset your metabolism.
As is the case with any addiction, the only way to wean yourself off sugar is to stop taking it.
This is an essential phase of the diet, but also the toughest one. Carb cravings are common during Induction, especially if you are trying Atkins for the first time.
Sugar and starchy foods are definitely off-limits on Induction. But some artificial sweeteners are permitted. Combined with other permitted foods, you can create Induction-friendly desserts and beat those annoying sugar cravings.
But isn't it better to avoid sweeteners anyway?
Some argue that you should stay off all sweet foods, regardless of whether they affect your blood glucose (as real sugar does) or not (as is the case with artificial sweeteners). Then you can get over the cravings faster.
I agree with this opinion to a point. If you have the willpower to stay off all sugar and sweet foods, then it is certainly best to do that.
But if you are unable to fight the cravings, Induction-friendly dessert is better than falling off the wagon or giving up the diet.
What ingredients can we use for making Atkins Induction desserts?
The following foods are permitted on Atkins Induction, and can be used to create desserts:
Eggs
Butter
Coconut oil
Cream cheese (limited to 3-4 oz a day)
Cream (limited to 2-3 tbsp a day)
Avocado (half a small one) – yes, there is a way to make it into a dessert!
Sweeteners – Sucralose is the one recommended by Dr Atkins. Stevia, saccharine and erythritol are also allowed as they have no effect on blood glucose. As always, watch out for fillers and bulking agents, as those can be high in carbs. Atkins Advantage bars and shakes suitable on Induction.
In the UK, they are available on the High Street from Boots and Superdrug.

---

Cookbooks with Atkins Induction Recipes

Many (though not all) recipes labelled as Keto or LCHF would be suitable for Atkins Induction.
Sweet "fat bombs" also make good Induction desserts.







---

Atkins diet support websites

Atkins UK
Atkins Community recipes
Atkins Bulletin Board forum