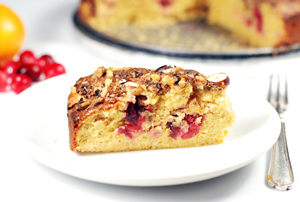 So, on to the next great seasonal flavour – cranberries!
Naturally low in carbs (about 8g net carbs per 100g), they work well in all sorts of sweet and savoury recipes.
Today we are going to team cranberries with ground almonds and oranges, for a moist and rich cake with nut streusel topping.
These seasonal flavours play really well together, and the carbs add up to about 5g net per serving.

Did you mention oranges? Oranges are not low-carb!
True – they are not. However, we are only going to be using a small amount – zest of one orange, which adds zero carbs, plus 2 tbsp (roughly 1oz / 30ml) freshly squeezed juice (yield from about 1/4 medium orange), which adds 3g net carbs to the recipe.
This means it will only amount to less than 0.5g net carbs per serving, which I think is acceptable, considering its important role in enhancing the flavour.
And you can always feed the rest of the orange to a non-low-carbing friend!
If you feel zero-tolerance about oranges, I suppose you could substitute orange juice for some orange flavour extract, but I would recommend the natural option, even if it does come with a small bit of carbs.
What exactly is streusel?
Streusel is a crumbly topping sometimes added to breads and cakes. Chopped nuts with a bit of sweetener work really well in this capacity, so low-carb cake recipes often come with nut streusel.
Shall I use fresh or frozen cranberries?
Either would be fine, but I guess frozen option is easier to get hold of.
Defrost them before cooking – they defrost really fast. Chop them up roughly and add a tablespoon of sweetener to create a cake-ready cranberries mix.
Low-carb cranberry orange almond cake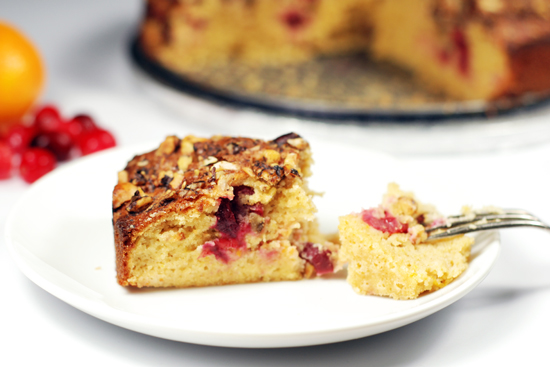 Moist and rich low-carb cake with ground almonds, oranges and nut streusel topping
Prep time:10 min | Cook time:60 min | Total time:70 min Yield: one 9-inch cake
Ingredients
For the cake