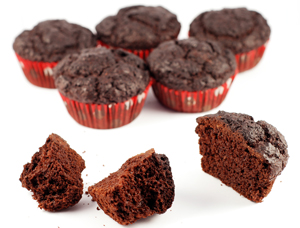 This muffin recipe is for serious and committed chocolate lovers.
Just because you are on a low-carb diet, doesn't mean you have to give up chocolate too! (Let's face it, that just would not be good!).
We just need to use sugar-free versions of cocoa powder and baking chocolate, and almond flour instead of regular flour.
Overall, one of these gorgeous chocolatey muffins will set you back only 2g net carbs!

Are you serious? Can I eat chocolate on a low-carb diet?
Yes, absolutely. Chocolate has a bad reputation as the dieter's enemy number one. But it's not the chocolate per se that is the problem, but the vast amounts of sugar that are added to chocolate bars.
There are sugar-free chocolates and cocoa powders in the world, and that's what you should be getting. Read more about chocolate on a low-carb diet.
Note for those on Atkins Induction – although small amounts of sugar-free cocoa powder are permitted on Induction, almond flour is not, so this muffin recipe won't be suitable for you yet. Do come back once you are past Induction and on OWL! In the meanwhile please check out this list of Atkins Induction desserts.
Sugar-free cocoa powder – safe brands
I use Green & Black unsweetened cocoa powder in my recipes – I think it's the best option if you are in the UK.
In the USA, good brands for high-quality unsweetened cocoa powder are Valrhona and Ghirardelli.
If you use a different brand, just make sure it doesn't have any added sugar.
Adding moisture to the recipe
In the recipe below, I am using cream, which is high in fat and low in carbs.
Depending on your dietary preferences, you can substitute cream for dairy milk, or coconut or almond milk. You can even use water!
The consistency of the final mixture should be similar to thick yoghurt – it can be poured into muffin cups, but it would flow slowly and be quite sticky.

Low-carb chocolate muffins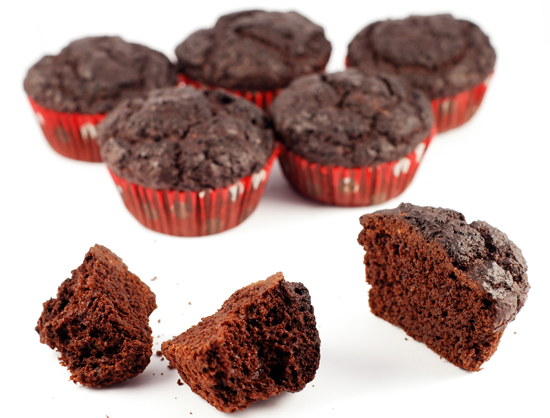 Rich chocolate muffins - low-carb, sugar-free, gluten-free.
Prep Time: 10 minutes | Cook Time: 30 minutes | Total Time: 40 minutes Recipe yield: 10 muffins
Ingredients
Instructions
Preheat oven to 190C/375F/Gas Mark 5
Mix all dry ingredients together thoroughly
Lightly beat eggs, add vanilla extract and cream and combine
Add wet ingredients to dry ingredients and mix well until smooth
Fold in chocolate chips if using
Spoon mixture into individual muffin tins or cups
Bake for 20-30 minutes, until springy and firm to touch
Nutritional information
Assuming 10 muffins are made from the amounts listed above, per 1 muffin: 120 cal, 2g net carbs, 10g fat, 5g protein
Recipe by , published on