Do you think chocolate is the enemy of your low-carb diet? Do you crave it desperately anyway?
You don't have to suffer. You can enjoy chocolate and stay low-carb.
On just one condition.
Chocolate itself is not high in carbs. It just gets laden with lots of sugar for mass-market products.
If you can avoid the sugar, you can have the chocolate.
How?
By getting sugar-free chocolate, sweetened with Stevia, erythritol, or another low-carb sweetener. Or making your own from scratch – it's actually fun for chocolate lovers!

Chocolate in itself is not the problem – added sugar is
Pure 100% unsweetened cocoa is high in fat, but not that high in carbs – net carb content is between 10-20 net carbs per 100g, depending on the brand.
This count is for the most concentrated possible form of chocolate – far too rich and bitter to have on its own.
Typically you would mix it in recipes with something else – usually some form of dairy or fat, like fresh cream, cocoa butter or coconut oil.
So your net carb count would be diluted further. Many low-carb recipes for chocolate-rich treats contain about 3-5g nets carbs per serving.
So what exactly is cocoa?
Cocoa is extracted from seeds of Theobroma cacao tree. Seeds are roasted and shelled, resulting in cocoa nibs. Nibs are then ground into a paste, which is known as chocolate liquor. It is used as a basis for chocolate products or separated into cocoa butter and cocoa solids.
Natural cocoa contains a high level of flavonoids, specifically epicatechin, which is beneficial for cardiovascular health. [i]
Cocoa is sometimes treated with an alkalising agent ("Dutch-processing") to give it a milder taste, as natural 100% cocoa is bitter. Dutch processing also strips out most of the antioxidants. Watch out when using Dutch-processed cocoa in baking – use baking powder rather than baking soda as the leavening agent.
Unsweetened chocolate brands
You can get unsweetened chocolate either as solid blocks (100% cocoa solids chocolate), or as cocoa powder. Both can be used in low-carb dessert recipes, or to make your own sugar-free chocolate.
For unsweetened chocolate products, opt for premium brands that produce top-quality chocolate with 90-100% cacao solids. The smooth rich taste of real chocolate will make your low-carb desserts truly special.
Valrhona is one of the world's top chocolate brands. Their fantastic pure cocoa powder is great for low-carb recipes and hot chocolate.
Ghirardelli is the US division of famous Swiss chocolatiers Lindt & Sprüngli. They produce both unsweetened cocoa powder and solid unsweetened chocolate blocks.
I use Green & Black unsweetened cocoa powder in my recipes – I think it's the best option if you are in the UK.
Chocolate sweetened with sugar alternatives
Cavalier is a traditional Belgian chocolatier, their Stevia dark chocolate is delicious and low in carbs.
Atkins – unsweetened cocoa powder is allowed in all phases including Induction
Keto and LCHF – unsweetened cocoa powder and chocolate with 100% cacao solids are fine in terms of their carbs and fat content
Dukan – reduced-fat cocoa powder is allowed in all phases including Attack
Paleo – depends on the specific system you are following, some consider cocoa to be too processed to count as a natural food (especially Dutch-processed products).
So what can you do with all this cocoa while on a low-carb diet?
You can do lots! Here are some low-carb dessert recipes with chocolate: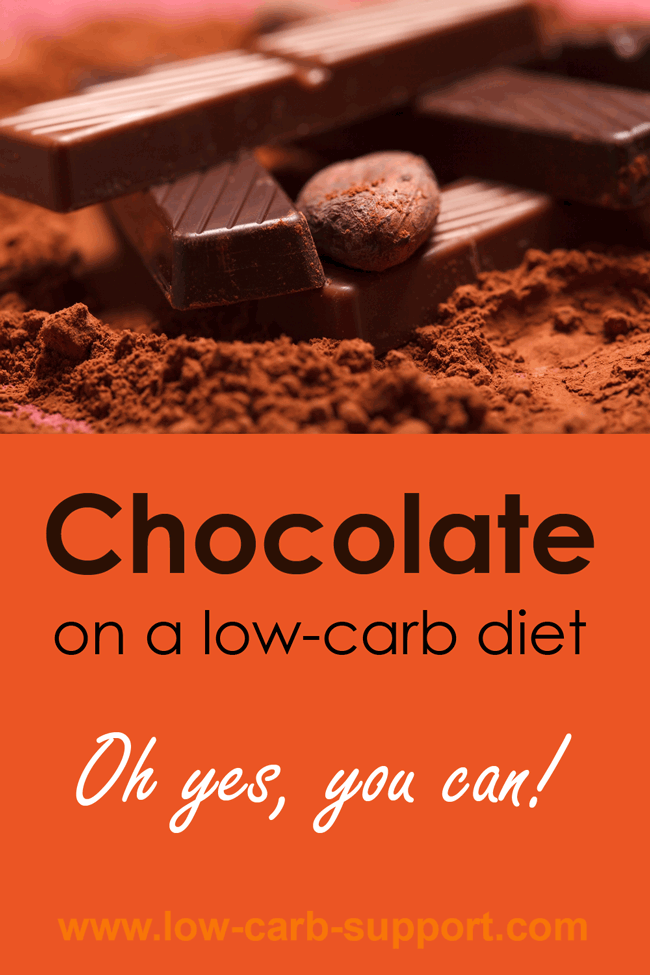 [i] Taubert D, Roesen R, Schömig E (April 2007). "Effect of cocoa and tea intake on blood pressure: a meta-analysis". Arch. Intern. Med. 167 (7): 626–34. PMID 17420419.