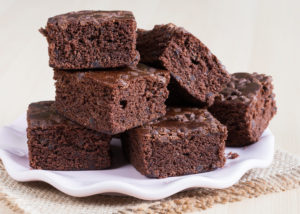 Brownies are not that hard to recreate without any flour or sugar. We just need to use almond flour and a sweetener.
There are many low-carb brownie recipes out there. Here's my version.
My inspiration was Pret-A-Manger brownies. I used to love them back in the day before going low-carb.
If you never tried them, they are very dense, fudgy and moist. I use a lot of chocolate and cocoa powder in this recipe, so the taste is very rich.
Sugar-free cocoa powder – safe brands
I use Green & Black unsweetened cocoa powder in my recipes – I think it's the best option if you are in the UK.
In the USA, good brands for high-quality unsweetened cocoa powder are Valrhona and Ghirardelli.
If you use a different brand, just make sure it doesn't have any added sugar.
Choosing a sweetener
You need to use a granulated sweetener, like Truvia or Swerve. Both brands are a mix of erythritol and Stevia extract, which is ideal for low-carb baking.
Liquid sweetener drops would not work in this recipe.
Low-carb brownies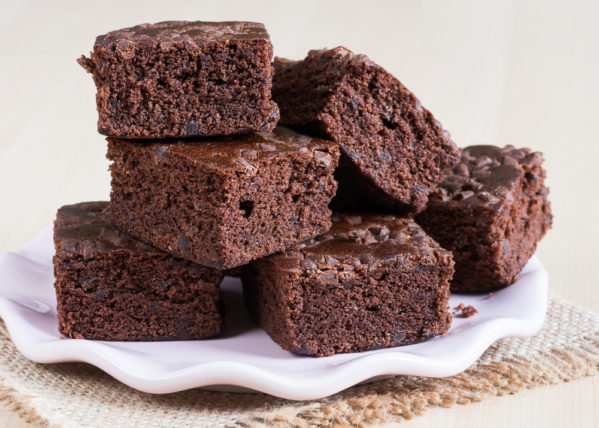 Low-carb brownies – moist, rich and intensely chocolatey
Prep time:5 min | Total time:25 min
Yield: 10 brownies
Ingredients
Instructions
Preheat the oven to 190C/375F/Gas Mark 5
Mix cocoa powder with sweetener, almond flour and baking powder
Lightly beat eggs and mix with softened butter and vanilla extract
Combine wet and dry ingredients, and mix thoroughly
Pour mixture into a greased baking tray or a cake tin
Bake for 20-25 minutes. The top of the brownies should be firm but the inside should stay moist, so take care not to over-bake them.
Nutritional information
Serving size: 1 brownie (1/10 of the mix using ingredients quantities above)
Per serving: 234 calories, 4g net carbs, 26g fat, 8g protein
For the total mixture, using amounts listed above:
2346 calories, 40g net carbs, 73g protein, 250g fat
---
Recipe by Margarita White (@Carbophobic), published on
Cookbooks for low-carb baking and desserts
Do you need more low-carb baking and dessert recipes?
Check out these great cookbooks: