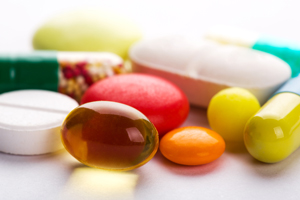 On Atkins and worried about your vitamin intake?
Atkins Diet has a great track record. It helped millions of people to lose weight while staying perfectly healthy. But critics still claim that balanced nutrition on Atkins Diet is impossible. Could they be right?
It is true that you would consume less of some vitamin-rich foods like fruit and grains, especially during Atkins Induction (Phase 1 of the diet).
But you would get more proteins, amino acids and healthy fats. And you can get all the vitamins and minerals you need from low-carb foods.
Related post: Top low-carb vitamin-rich foods
Should you take supplements on Atkins Diet?
Although it is possible to get the full spectrum of nutrients on Atkins without resorting to supplements, many dieters choose to do so anyway.
First of all, supplements like multivitamins and electrolytes do provide cheap insurance against deficiencies. Let's face it, most of us don't have the time to create perfectly balanced meals from scratch every day.
Secondly, supplements can give you additional benefits on top of simply preventing deficiencies. For example, they can boost your energy, help to reduce Atkins flu or improve your sleep quality.
What did Dr Atkins have to say about supplements?
Dr Atkins himself was a strong advocate for targeted supplementation.
The subtitle to Nutritional Supplements chapter of his original book was "Don't even think of getting along without them!"
In addition to this chapter in his original book, Dr Atkins wrote a separate book on the potential medicinal benefits of vitamins – Dr Atkins' Vita-Nutrient Solution.
He devised his own multivitamin/multivitamin formula, called Atkins Basic #3 Formula.
Here's a quick summary of supplements recommended by Dr Atkins in his original book.
---
Atkins Phase 1 (Induction) Supplements
Multivitamins for overall nutritional support 
Atkins Induction (Phase 1) is the most restrictive phase of the diet. Your carb intake is limited to under 20g net carbs a day. Fruit and berries are out. You can only have a few cups of very low-carb salad vegetables. A high-quality extra-strong multivitamin can help to minimise the shock of the sudden change in your nutritional profile. It will also help to maintain your energy levels and may reduce cravings for high-carb foods.
Electrolytes for Atkins Flu 
Many people feel tired during the first phase of Atkins, before ketosis kicks in – the infamous "Atkins flu", also sometimes referred to as "Induction Flu" or "Keto Flu". You may get fatigue, headaches, muscle cramps and heart palpitations.  Electrolytes (magnesium, potassium, sodium) supplements can help you beat these symptoms.
Chromium and green tea for sugar cravings
Another common problem during Induction is sugar cravings. Dr Atkins recommended chromium picolinate and green tea extract to reduce cravings.
CoQ10 and L-Carnitine to speed up ketosis
If your metabolic resistance is high, Dr Atkins also recommended Co-Enzyme Q10 and L-Carnitine to boost fat-burning metabolism and speed up the transition to ketosis.
---
Atkins Phase 2 and 3 Supplements
As you start adding foods back, your nutrition will be more varied. There will be less need to supplement. But if you still get problems like tiredness or sugar cravings, then continue taking multivitamins and other supplements listed above.
Fibre for healthy digestion
After several weeks on Atkins, some people get constipated. The reason for that is a possible fibre deficiency (grains being one of its main sources). Prevent this unpleasant side effect by taking a fibre supplement. Dr Atkins recommended flaxseeds and psyllium husks as the optimal fibre supplement on Atkins Diet.
Omega oils for heart health
Dr Atkins also strongly recommended essential fatty acids to support heart health over the long term. These are usually available in form of omega oil capsules.
---
Atkins Phase 4 Supplements
Maintenance phase allows most foods, except for highly processed carbohydrates such as refined sugar and white flour.
By this stage, you will be well adapted to low-carb lifestyle and most likely won't need any additional supplements.
But if you experience any issues, like tiredness or Atkins flu symptoms, you could always go back to supplements as and when required.
---
What is Atkins Basic #3 Formula?
Atkins Basic #3 Formula was designed by Dr Atkins specifically to compliment Atkins diet. The formula included 30 different vitamins and minerals with super-strong B, C and E vitamins. It also contained chromium, selenium and green tea extract.
Unfortunately, Atkins Nutritionals no longer produce Atkins Basic #3. The company has changed hands many times since Dr Atkins' death. Their marketing strategy changed accordingly.
However, many dieters still use Atkins Basic #3 Formula as a guideline for how to supplement their Atkins Diet. You can view the full list of ingredients for Atkins Basic #3 in his original book.
If you are looking for a similar product, please check out Nutri-Align Multivit – the best-selling multivitamin formula for low-carb and Keto dieters, with a similar composition to Atkins Basic 3.
Summary of Dr Atkins recommendations
Dr Atkins recommended the following supplements during weight-loss stages:
Buy supplements for Atkins Diet online now
Unfortunately, branded Atkins supplements are no longer available, as Atkins Nutritionals stopped producing them.
You can buy some of the supplements mentioned above from our online shop.
---
Keto Multivitamins
Still worried? Take a multivitamin that's been designed to support low-carb diets like Atkins, to bridge any potential gaps and give you complete peace of mind.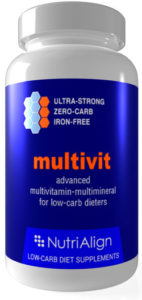 Buy Nutri-Align Multivit on Amazon – Multivitamins Designed for Low-Carb and Keto Diets
The ultimate multivitamin-multimineral for Atkins Diet
With extra-strong B and C vitamins, chromium, magnesium, potassium and green tea extract
Great alternative for the discontinued Atkins Basic 3
Designed and calibrated for low-carb dieters (unlike generic multivitamins)
Iron-free and sugar-free
Where else can you buy supplements
You could purchase most of these supplements from High Street health shops or pharmacies.
Just one note of caution regarding multivitamins. Most cheap brands won't provide you with the full list of nutrients as recommended by Dr Atkins. Typically, they will only include 100% of NRV (which isn't sufficient). They probably won't be iron-free or sugar-free. Most likely, they won't include any of the extra recommended ingredients.
So always read labels carefully and check Dr Atkins recommendations.
What about the revised version of the book?
In the latest revision of the Atkins Diet book, published in 2010, supplements are only mentioned briefly. The authors advise taking an iron-free multivitamin/multimineral formula, including magnesium and calcium, and an omega-3 supplement. 
Are there any studies to back up Dr Atkins' recommendations?
Since Dr Atkins' book was written, numerous scientific studies confirmed the validity of his recommendations. Some examples are listed below.
B-vitamins to improve energy and boost metabolism
Institute of Medicine (1998) Folate In Dietary  1,160 Reference Intakes for Thiamin, Riboflavin,  Niacin, Vitamin B6, Folate, Vitamin B12, Pantothenic Acid, Biotin, and Choline. National Academy Press, Washington D.C, chapter 8, pp 196-305
Chromium to normalise glucose levels and improve insulin resistance
Anderson RA. Nutritional factors influencing the glucose/insulin system: chromium. J Am Coll Nutr. 1997 Oct; 16(5):404-10.
Green tea to control glucose levels and reduce sugar cravings
Julija Josic, et al. Does Green Tea Affect Postprandial Glucose, Insulin and Satiety in Healthy Subjects: A Randomized Controlled Trial; J Nutr. 2010 Nov.
L-Carnitine to improve insulin resistance and fat metabolism
Amino Acids. 2011 Jul;41(2):507-15. doi: 10.1007/s00726-010-0770-5. Epub 2010 Oct 21. Effects of oral L-carnitine supplementation on insulin sensitivity indices in response to glucose feeding in lean and overweight/obese males. Galloway SD, Craig TP, Cleland SJ.
Multivitamin supplements to improve energy levels and sense of well-being
Nutr J. 2012; 11: 110. Published online 2012 December 14. doi:  10.1186/1475-2891-11-110, PMCID: PMC3545984 Participant experiences from chronic administration of a multivitamin versus placebo on subjective health and wellbeing: a double-blind qualitative analysis of a randomised controlled trial, Jerome Sarris et al.
Further reading
Dr Atkins New Diet Revolution
Updated edition (2003) of the original book, written by the man himself
Buy this book on Amazon UK | Buy this book on Amazon US
New Atkins for New You
Revised version of the diet (2010), written by Eric C Westman; Stephen D Phinney; Jeff S Volek
Buy this book on Amazon UK | But this book on Amazon US
Atkins Diet Official Website
UK site | US site | Other regions