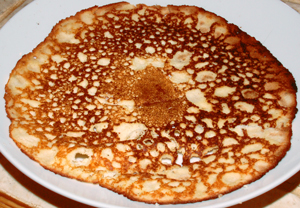 Shrove Tuesday is here – time for some pancake action! If you haven't tried making low-carb, gluten-free pancakes before, this recipe is super-simple and produces very genuine tasting pancakes.
The main substitution we need to make is to use almond flour instead of wheat flour. You might need to experiment a little with the amount of added moisture to get just the right texture (as not all almond flours are exactly the same). I use water but you can also try milk instead.
Note for non-UK visitors who don't eat pancakes on Shrove Tuesday – this is an old English tradition. If you are completely baffled, you can
find out about it here
– or not bother and make some pancakes anyway for no particular reason!
Pancake ingredients:
The main dry ingredients listed below are now available to buy from the online shop on this website (delivering to UK and EU).
2 cups of almond flour
2 large eggs
1 cup of water (or milk)
Sweetener to taste (I used 2 tsp of Truvia)
1 tsp baking powder
¼ tsp salt
1 tsp of butter to grease the pan
To make pancakes:
Mix almond flour with baking powder and salt
Beat the eggs and mix them with water
Combine wet and dry ingredients and whisk together thoroughly until smooth
Leave to stand for 5-10 minutes
Put a frying pan on a medium heat and grease with a bit of butter
Pour one large spoonful of pancake mixture into your pan
Cook on low-medium heat for about 3-5 minutes on each side, or until golden brown
Make one test pancake first – if it comes out well, proceed with the whole batch.
Pancake testing note
The amount of moisture almond flour would need can vary depending on the brand, how finely it is ground, and how dry the flour is.  So always test your mixture by making one small pancake first, and see if a little more water or more almond flour needs to be added. Another variable you might need to test and tweak is the frying pan temperature – generally, keep it around medium, and it's better to err on the side of less hot rather than too hot, so you don't burn them. Usually, one test pancake is enough to reveal all.
Nutritional information
For the total amounts listed above: 1678 calories, 16g net carbs, 139g fat, 61g protein.
Per 1 pancake (assuming 6 pancakes are made from the total amount above): 280 calories, 3g net carbs, 23g fat, 10g protein.
Some thoughts on what to have with your pancakes:
sugar-free chocolate ganache (melt some solid sugar-free 100% chocolate with fresh cream)

shavings of raw cocoa
greek yoghurt
low-carb berries like blueberries or raspberries
fresh whipped cream
nut butters
More recipes