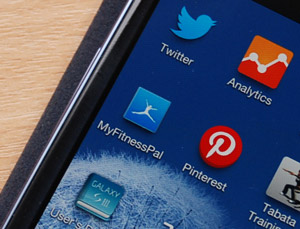 MyFitnessPal (MFP) is one of the most popular apps to track your diet and fitness progress. It claims to have the largest nutrition database with over 1 million foods and gets featured in the media regularly. So far so good, but can it help you with your low-carb diet?
Food and exercise tracker
At the core of the application are two connected diaries, to record your food intake and exercise. You can choose foods and activities from the MFP database, which is indeed huge.
When you start using MFP, it asks you to specify your current weight and measurements, and to choose your objectives in terms of weight loss, calories intake and exercise. Your progress is then tracked against those benchmarks. Calories spent on exercise are automatically subtracted from the calories consumed.
Food database
MFP foods database is indeed very impressive. Having used it for several weeks, I was able to find almost all products purchased from UK supermarkets and High Street chains.
The food diary can track calories, macronutrients (fat/protein/carbs) and fibre, plus you can add other options such as specific minerals or vitamins. You can specify up to 6 meals – for example, if you want to track your pre- and post-workout snacks in addition to main meals. Most entries come with a range of units, including both weight (in metric and imperial systems) and volume measurements.
If something is not in the database, you can add your own custom entries (including recipes), with an option to upload to the main database to be available for other users. There is a clever feature which allows user-uploaded entries to be verified and endorsed by others, thereby confirming accuracy of the data.
Carbs vs net carbs
One big downfall of MFP is that it does not calculate net carbs.  If you are based in the US, you can do it yourself based on your total carbs minus fibre. However, if you are based in the UK or Europe, it becomes more complicated. Carbs count on European food packaging already shows net carbs (total carbs minus fibre), and so if you enter a combination of foods uploaded to MFP by American and European users, your carb count will be inaccurate. This makes MFP unsuitable for low-carb diets where you need to know the exact number of net carbs, for example, if you are on Atkins or Keto. MFP confirmed that net carbs count is on their "wish list" of features to be added in the future.
App interface and toolkit
MFP is available as a free app for iPhone/iPad, Android, Blackberry and WindowsPhone (whatever that last one is – I am yet to come across one!). You can also access your MFP account from a desktop computer via a web browser. Browser interface is definitely more convenient so I found myself using it most of the time (let's face it, I do spend most of my waking hours in front of the computer), only needing the app when eating out.
MFP is integrated with a host of other tools and apps, including various social media extensions. I am sure you've seen tweets and posts on other social networks proudly declaring progress as recorded by MFP. I sometimes get annoyed by this, but only when I see other people outperforming me! So perhaps it is good for motivation even if a bit irritating.
MFP is free but unfortunately, this means there are blinking, distracting ads both within the app and in the browser version. There is no paid version available at the moment, which is a shame. MFP is a great app overall, and I would happily pay in order to get rid of the ads. Again, this is something apparently on the list of improvements to come in the future.
Summary
Best points: fantastic food and exercise database; great desktop interface and decent mobile interface; free of charge
Worst points: no calculation of net carbs; no option to pay for an ad-free version
Overall: in my opinion, MFP is a cut above most free fitness/diet apps so I would recommend it as a really good diary tool. However, it will not help you with net carbs count, so if you are on Atkins, Keto or a similar diet, you would be better off with a more specialised app. Finally, I really hope they will soon roll out a premium ad-free version, which I would be happy to pay for.
MyFitnessPal website