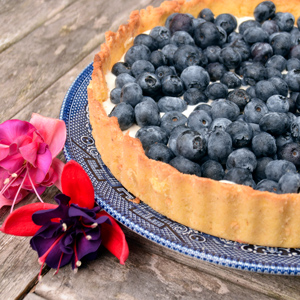 I hope you are making the most of the berries season.
We know berries and cream are a match made in heaven. This recipe takes it one step further.
Blueberries sit on top of rich creamy mascarpone filling, inside golden almond-flour crust. Perfect combination of tangy and sweet tastes, offset by contrasting textures: crispy crust, smooth cream and plump fresh blueberries.
A slice of this tart will clock up about 5g net carbs.
It is also a fat bomb, with 35g of fat per slice. Ideal if you are on Keto, Atkins Induction or LCHF.
I stole the idea for this recipe from Jamie Oliver. Of course, I had to adapt it for low carb, and simplify it.
(I am sure grappa would have been lovely as flavouring, but "nobody ain't got time for that". So I just used vanilla extract instead.)
All you need to bake for this recipe is the pastry crust. The filling only needs beating, and berries will stay fresh. Total time for prep and cooking is less than 30 minutes.
Almond flour crust
This part is simple. We are going to use ground almonds, eggs and butter.
Traditional shortcrust pastry doesn't include eggs. But we do need the eggs – to compensate for the absence of gluten. Otherwise our crust might crumble away on the first touch.
Luckily, this pastry does taste authentic even with eggs. It provides the solid no-nonsense base for the other, more frilly parts of the tart.
I added 1 tbsp of psyllium husks to improve texture. You can use xanthan gum
or guar gum
instead, or 1 tsp of arrowroot
. Again, this is to help with the crust's crumbling tendencies (the bane of gluten-free baking!).
Mascarpone filling
While the crust is in the oven, you can make the filling. Mascarpone and whipped cream come to play together. Vanilla extract and sweetener join in to make the mix irresistible.  You can vary the quantities I used – make it more sweet or more vanilla-y if you like.
Be careful at this stage – once you start tasting the filling, it will be difficult to stop! Resist the temptation as the tart will be ready soon.
Berries
I used blueberries, but any other tangy berries like blackberries or raspberries would work well. Adjust the carb counts if you are using different berries.
Low-Carb Blueberry Tart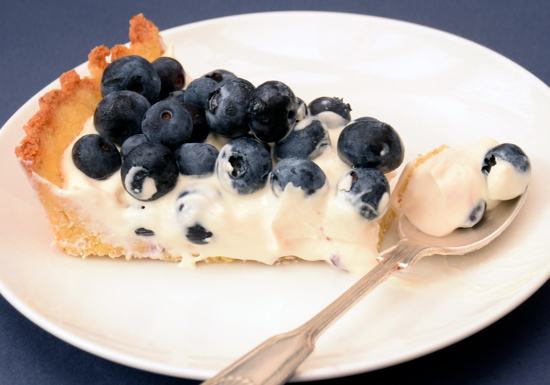 Golden almond flour crust with rich creamy filling and plump fresh blueberries
Prep time:10 min | Cook time:20 min | Total time:30 min
Yield: 1 9″ tart (8 slices)
Ingredients
For the crust:
Instructions
Make the crust first
Preheat oven to 175C/350F/Gas Mark 4
Mix dry ingredients together
Slightly beat the eggs
Combine dry ingredients with eggs and melted butter and mix thoroughly
Put the mixture into a greased loose-base tart tin (I used 23cm wide one)
Press it into the tin using your fingers to make up a crust
Make it as even as possible, as a single layer of the same thickness – make sure the edges are as thick as the rest (or they might burn before the rest is ready)
Bake for 10-15 minutes, or until golden
Take out and cool completely
Make the filling
Whip the cream using a hand-held beater or a mixer
Add mascarpone to the whipped cream, beat further until fully combined
Add vanilla extract and sweetener, beat until completely smooth and mixed together
If the crust isn't ready yet, put your mix in the fridge
Put the tart together
Once the crust is baked and fully cooled, spoon the filling into it
Stick the berries on top of the filling – you can push them in a bit, but you don't have to, they can just sit on top
Important – keep your tart in the fridge, as the filling might get too soft in hot weather
Nutritional information
Serving size: 1 slice (1/8 of the whole tart) Per slice: 370 calories, 5g net carbs, 35g fat, 8g protein Recipe by , published on
Cookbooks for low-carb baking and desserts
Do you need more low-carb baking and dessert recipes?
Check out these great cookbooks:

---