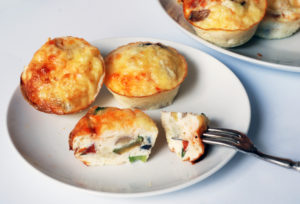 Low-carb breakfast recipes are always in high demand with beginners. As traditional Western breakfasts tend to be full of carbs, it can take a while to adjust to breakfasts without any bread or cereal.
Eggs in all forms, including omelettes, are an obvious choice. This recipe features mini-omelettes baked in the oven. This mini format allows you to make a batch and store them away in the fridge. They taste quite nice cold, or can be reheated in the microwave.
The basic form of this recipe just needs eggs and cheese.
I use cottage or cream cheese to mix with the egg (crumbled feta would also work well), and sprinkle some grated hard cheese like cheddar on top to get that golden top.
You can add any low-carb vegetables to this basic mixture to suit your taste. For example:
cauliflower or broccoli, broken into tiny chunks
spinach
kale
mushrooms
courgettes
peppers
onions
olives
peppers
Meaty additions would also jazz this up nicely, for example:
bacon or pancetta
chorizo
sausage meat
ham and other deli meats
sliced chicken breast
smoked salmon
This is a great way to utilise leftovers – just see what you got in the fridge! You only need small amounts of these extra ingredients.
You can bake the mini-omelettes using a muffin tin
or individual ramekins
.

Cheesy mini-omelettes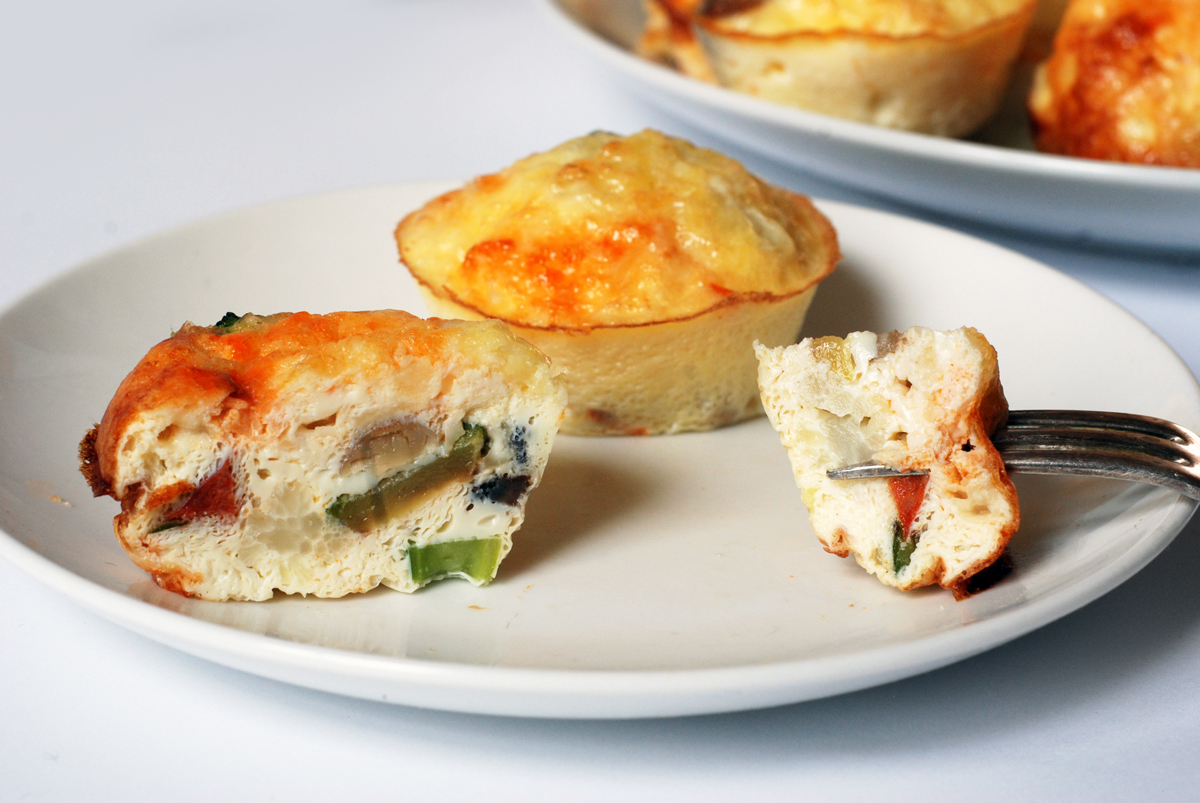 Low-carb breakfast: cheesy mini-omelettes
Prep time:10 min | Cook time:30 min | Total time:40 min Yield: 12 servings
Ingredients
8 large eggs
200g (7oz) cottage cheese
60g (2oz) grated cheddar cheese
100g (3oz) cooked vegetables (e.g. cauliflower, broccoli, mushrooms, courgettes)
60g (2oz) sausage, bacon or deli meat, chopped
Salt and pepper
Instructions
Beat the eggs lightly
Add cottage cheese, salt, pepper and mix well
Add a little bit of vegetables and meat into each muffin cup
Pour egg and cheese mixture over it so that the muffin cup is almost full
Sprinkle with grated cheddar
Bake on 190C/375F/Gas Mark 5 for 30 minutes or until the omelettes are puffed up and golden on top
Eat hot or cool down and refrigerate
Nutritional information
Serving size: 1 mini-omelette (12 total made from the amounts above) For each serving: 130 cal, 2g net carbs, 10g protein, 10g fat.
Recipe by Margarita White (@Carbophobic), published on