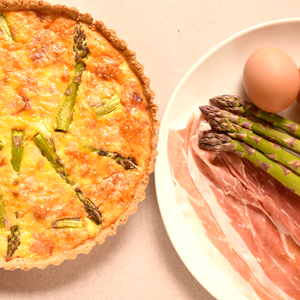 Do you like asparagus? Some green vegetables are boring. But not asparagus!
It has a strong and interesting taste. Its carb content is low – 3g net carbs per 100g. Serving it steamed with some butter and salt is enough to make a wonderful side dish.
The perfect time to have asparagus is now, while it is in season.
You can buy asparagus all year round. But the out-of-season versions, flown from half across the world, are just a bland caricature of the real thing.
So let's do something interesting while it lasts!
Some ingredients are natural playmates for asparagus.
Eggs. Butter. Goat cheese. Strong-tasting Continental ham, like Serrano or Parma Ham.
This recipe combines all these obvious components in a tasty quiche. It would make a great low-carb breakfast or a snack. Maybe even a light dinner (I am thinking sitting out in the garden, with a glass of chilled white wine…)
Traditional quiche recipes include a pastry crust. You can make a very good low-carb crust using almond flour.
However, this is optional. This recipe works just as well without a crust. I have provided both options below.

Low-carb quiche with asparagus, Parma ham and goat cheese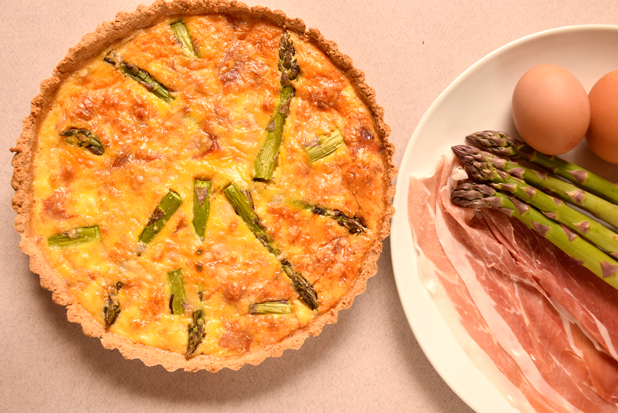 Scrumptious low-carb quiche with asparagus, Parma ham and cheese - perfect low-carb breakfast, snack or a light summer dinner.
Prep time:15 min | Cook time:45 min | Total time:60 min Yield: 1 9" quiche (8 servings)
Ingredients
For the crust:
1 cup (90g / 3oz) ground almonds
2 egg whites (save the yolks to use for the filling)
60g (2oz) butter, melted
1 tbsp psyllium husks
1 small pinch of salt
For the filling:
6 eggs, plus 2 egg yolks saved from making the crust
100g crumbly semi-soft goat or sheep cheese
50g (2-3 slices) Parma ham
90 ml (3oz) double cream (this is called heavy cream in USA)
30 ml (1oz) full fat milk
30g (1oz) grated Parmesan
4-5 thin asparagus spears
Salt, pepper, nutmeg
Instructions
Make the crust first
Preheat oven to 190C/375F/Gas Mark 5
Mix dry ingredients together
Slightly beat egg whites
Combine dry ingredients with egg whites and melted butter
Mix it into a sticky dough using your fingers
Put the dough into a greased loose-base tart tin – I use 23cm (9-inch) wide one
Press the dough into the tin using your fingers to make up a crust
Bake for about 15 minutes, or until slightly golden
Take out and cool completely (do not take out of the tin)
If you are not using the crust, go straight to making the filling. Use a pie dish instead of a loose-base tin to avoid spilling. Grease your pie dish thoroughly to ensure the mix doesn't stick to it.
Make the filling
Crumble goat cheese and put it into your crust as the first layer
Tear Parma ham into pieces and put it on top of the cheese
Break the tough fat ends off the asparagus spears, and arrange the thin bits on top of the ham and cheese
Beat the eggs with cream and milk
Carefully pour the eggs and dairy mix into your crust
Season generously with salt, black pepper and a bit of nutmeg
Sprinkle with grated Parmesan
Bake at 160C/Gas Mark 3 for 30-40 minutes, or until fully set and golden
Serve hot or cold
Nutritional information
Serving size: 1 slice (1/8 of the whole quiche) Per serving (with crust): 320 calories, 2g net carbs, 28g fat, 15g protein
Per serving (without crust): 195 cal, 1g net carbs, 16g fat, 12g protein Recipe by , published on
Notes on choosing ingredients
Asparagus – Get fresh, locally-grown asparagus. (I have recently bought a bunch by mistake that came all the way from Peru! It tasted of nothing at all. I made sure the next one  came from West Sussex. It was a wonderful explosion of taste and no comparison to the previous disappointment).
Eggs – Organic, free-range eggs always taste better and are worth the extra couple of pounds in price
Cream – Ideally, use fresh cream and buy it on the day of cooking
Goat cheese – Any semi-soft crumbly cheese would work well – you can use sheep or cow cheese as well
Ham – I used Parma ham, but any smoked ham would work equally well, either Continental or British varieties. You could also try bacon or pancetta instead.
Psyllium husks – I always add a bit of psyllium husks when baking with almond flour. Psyllium husks are almost pure fibre, so they bind moisture and help to improve the texture of low-carb baked goodies. You could also use a synthetic emulsifier such as xanthan gum
or guar gum
. This step is optional but the texture will be more crumbly if you skip this step.
Do you need more low-carb breakfast recipes?
Check out these great low-carb cookbooks: