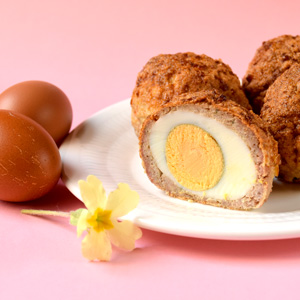 The Scotch egg is an all-time classic British recipe, beloved in its homeland. If you are not from Britain, you might find it a bit baffling. But it really is a brilliant recipe. Basically, it is an egg wrapped in sausage. Simple and clever!
It comes out as a small and perfectly portable parcel of protein and fat. Ideal for a quick Keto snack, or breakfast on the go.
The traditional recipe calls for the breadcrumbs coating for the eggs. For our Keto version, we just swap breadcrumbs for almond flour, or just skip this step.
Keto Scotch eggs – basic method
This is a very quick and simple recipe. You just need to hard-boil the eggs, wrap them up in sausage meat and then either deep fry or bake them. Voilà!
Deep-frying is the traditional method for cooking Scotch eggs. However, I usually avoid deep-frying. Not because of the fat (I love fat!), but because exposing oil to very high temperatures can result in some unhealthy by-products.
So I personally prefer baking. My baked version turned out tasting perfectly authentic. So choose whatever method you prefer.


Sausage meat for Scotch eggs
Sausage meat is just seasoned minced pork. So you have several options:
Buy ready-made sausage meat, or buy some nice sausages and squeeze the meat out of the skins. You need to be careful with this one. Many ready-made products have all sorts of non-meat ingredients added to them. Some of those can be high in carbs. So check the label and make sure the product is at least 98% meat.
Make your own sausage meat. Get some 100% minced pork and add your favourite seasoning. I used salt, pepper and sage leaves. Make sure that your mince is nice and fatty. This is essential for a nice taste. Lean pork will produce bland and unhappy Scotch eggs.
Make your own pork mince. If you are a hardcore foodie, you can make your own mince from whole chunks of pork. Choose fatty cuts like pork shoulder and belly. Add seasoning as above.
The eggs part of Scotch eggs
I believe it's worth spending extra money on high-quality eggs. Eggs are great value for money anyway – you get a lot of protein, fat and vitamins for what you pay. In addition to the obvious ethical issues, there is also a selfish reason. Free-range organic eggs taste much better than those produced by the poor caged hens. So you can support responsible producers while enjoying better quality food.
I usually get Burford Brown eggs from Clarence Court farms. They really are magnificent eggs…
Eggs rant over. Obviously, you can just buy any eggs you like in line with your own egg principles. I won't judge you!
But I digress – let's back to the recipe.
Low-carb coating for the Scotch eggs
Our low-carb version of this recipe can't include the traditional breadcrumbs coating.
I swapped it for a mixture of almond flour and psyllium husks. This worked perfectly well. I haven't tried other options. I think any other nut flour would work ok.
The coating's role in this recipe is not essential, so you could just skip it altogether.
Low-Carb Keto Scotch Eggs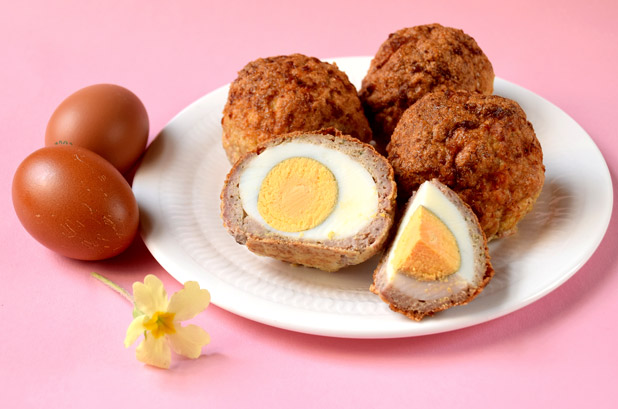 Low-carb Scotch Eggs - a Perfectly Portable Parcel of Protein (and Fat!)
Prep time:15 min | Cook time:30 min | Total time:45 min | Yield: 6 Scotch Eggs
Ingredients
8 large eggs (6 for the filling, 2 for brushing over the coating)
500g of sausage meat (or seasoned pork mince, nice and fatty)
1/2 cup (45g) ground almonds
1 tbsp psyllium husks (optional)
Instructions
Preheat oven to 190C/375F/Gas Mark 5
Boil 6 eggs for exactly 8 minutes (start counting from the moment the water starts to boil)
Once boiled, stick the pan under running cold water for a couple of minutes, to cool the eggs completely (you need to cool them rapidly otherwise they will keep cooking in their shells)
Beat the two extra eggs lightly with a fork (for dipping the wrapped up Scotch eggs)
Mix almond flour with psyllium husks (if using)
Divide your minced pork into 6 equal portions
Take one of the portions and make a round patty on a plate
Place one egg in the middle of the patty and wrap it up
Roll it around gently in your hands until the egg is securely wrapped-up in meat
Roll the wrapped egg in ground almonds mix
Finally, dip the wrapped-up coated egg in the beaten eggs (or brush it all over with a pastry brush)
Repeat the process for all eggs
Put them on a baking tray, preferably on top of a wire rack
Bake for around 30 minutes, or until golden brown all over
Nutritional information
Serving size: 1 Scotch egg Per egg: 306 calories, 1g carbs, 22g fat, 26g proteinRecipe by
, published on
Do you need more low-carb breakfast recipes?
Check out these great low-carb cookbooks: