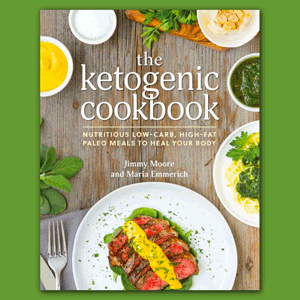 Are you looking for Keto recipes? At a glance, it seems like there are many choices.
Google brings up hundreds of Keto websites. Facebook has dozens of pages about Keto and low-carb cooking. Pinterest is brimming with photos of low-carb food.
But not all these recipes are as good as they look.
Some of them claim to be Keto, but turn out quite high in carbs. Some include expensive obscure ingredients that you can only find online. And some are so complicated, you would need to spend hours in the kitchen.  
So what can you do? The simple solution is to get a good Keto cookbook.
The Ketogenic Cookbook
The Ketogenic Cookbook is a brilliant cookbook that will cover you for most situations and occasions.
It includes over 150 Keto recipes covering:
Condiments, dressings, broths – 26 recipes
Breakfast – 21 recipes
Appetisers – 15 recipes
Beef and lamb – 16 recipes
Pork – 7 recipes
Poultry – 12 recipes
Fish seafood – 11 recipes
Vegetarian – 10 recipes
Sides – 16 recipes
Treats – 29 recipes
Written by low-carb experts
The Ketogenic Cookbook is co-written by two low-carb experts. Both are well known in the low-carb community, and have years of experience in this field.
Maria Emmerich is a qualified nutritionist and author of several popular low-carb cookbooks. She runs Keto Adapted / Maria Mind Body Health blog, with hundreds of free low-carb recipes. She is especially clever with baking and desserts – always a bit of a challenge on Keto.
Jimmy Moore is a leading low-carb diet blogger and podcaster. Check out his website Living La Vida Low-Carb for lots of free information about low-carb and Keto lifestyle.
Maria and Jimmy both live the low-carb lifestyle, in addition to promoting it. They definitely do know what they are talking about! Their personal stories are included in the beginning of the book.
Very low-carb recipes
Unlike some other cookbooks, all of the recipes in this book are definitely low in carbs.
Full nutritional breakdown is included with each recipe. There are recommendations about the best ingredients to choose, for example, which sweetener is the lowest in carbs (hint – erythritol and Stevia).
Simple recipes and ingredients
Most recipes in the book are simple and suitable for everyday cooking. Ingredients are reasonably easy to find.
There is a separate list of special ingredients such as xanthan gum, and advice on where you can buy them.
Detailed recipe info
Each recipe includes icons in the beginning to say whether it is Keto, Paleo, nut-free, dairy-free etc. If you need any special equipment like a blender or a sieve, this is also mentioned upfront. Cooking and prep times are included for each recipe, as well as the full nutritional data.
Beautiful photographs and layout
Each recipe in the book has a beautiful photo. The layout is clear and user-friendly.
Navigation is a bit tricky on a Kindle, but that's to be expected. There is a table of contents and a photo index in the end.
For me personally, print cookbooks are much easier to handle in the kitchen than e-books! Both versions are available on Amazon.
Lots of information about Keto Diet
The Ketogenic Cookbook includes a very detailed introduction. It covers the full guidelines of the diet, its history, and its health advantages. So you could also use it as a reference book on Keto diet.
There is a section on meal plans with links to free printable downloads.
Cons of this book
The Ketogenic Cookbook is a great book overall. There are just two minor points to note.
Not all recipes are Paleo. The cover of the book mentions the word Paleo, and some of the recipes are. But definitely not all – especially the desserts, which use artificial sweeteners and other processed ingredients like xanthan gum.   
The book is aimed at USA audience. If you buy this book in the UK or anywhere else outside USA, it would not be adapted for international audience. Although to be fair, this is the case for most cookbooks. Ingredients are listed in American volume quantities like cups. The recipes are designed to suit the traditional American taste.
Buy this book on Amazon
Get this book on Amazon now – or try a Kindle sample.
The Ketogenic Cookbook on Amazon