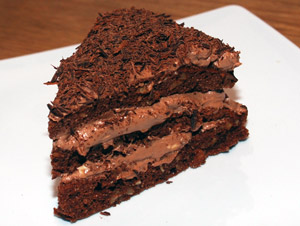 This low-carb chocolate cake is so rich and gorgeous, no one will ever believe it's sugar-free and gluten-free.
Lots of chocolate, butter and nuts come together to create a wonderfully indulgent dessert.
With only 4g net carbs per slice, it is the perfect birthday cake for any low-carb dieter!
The cake is made from almond flour, chopped walnuts, and sugar-free chocolate. I used Truvia as a sugar substitute.

There are two separate parts to the recipe – the cake itself, which we will cut into two or three layers, and rich chocolate ganache filling. You can also decorate with cocoa powder or chocolate shavings to make it look even prettier.
What sort of cocoa powder should I use?
You will need to get sugar-free, Dutch-processed cocoa powder.
If you are in the UK, I recommend Green & Black unsweetened cocoa powder. I use it in all my recipes.
In the USA, good brands for high-quality unsweetened cocoa powder are Valrhona and Ghirardelli.
You can also add sugar-free chocolate shavings to decorate (if you are not afraid of a chocolate overdose!). I use Willie's Cacao unsweetened baking chocolate.
If you are wondering about cocoa and chocolate on a low-carb diet, please have a look at this post – basically, chocolate is not the problem (but added sugar is).
Low-carb chocolate cake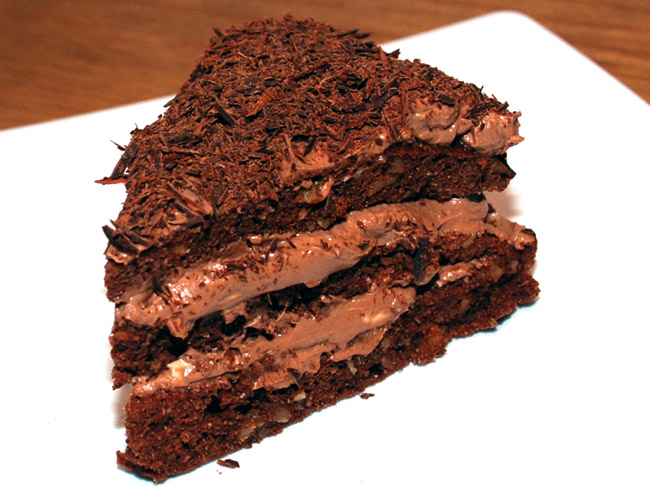 Rich and indulgent chocolate cake, with only 4g net carbs per slice
Prep time: 15 min | Cook time: 25 min | Total time: 40 min
Yield: 8 slices
Ingredients
For the cake:
1.5 cup (120g / 4oz) ground almonds

1 cup (100g, 3.5oz) chopped walnuts

(you can substitute with 1 more cup of almond flour)
2 tbsp Truvia, or another heat-resistant granulated sugar substitute
2 tbsp unsweetened cocoa powder

1 tsp baking powder

1/4 tsp salt

5 eggs
For the ganache:
80g (3oz) unsalted butter (should be soft – take it out of the fridge in advance)

200g (7oz) cream cheese (I used Philadelphia)

40ml (1.5oz) double cream (this is heavy cream for the US)

2 tbsp Truvia
2 tbsp unsweetened cocoa powder

pinch of cinnamon
All tsp and tbsp measures above refer to standard Imperial volumes:
1 tbsp corresponds to 15 ml of liquid, 1 tsp to 5 ml.
Instructions
Bake the cake first:
Preheat oven to 190C/375F/Gas Mark 5.
Mix dry ingredients – almond flour, chopped walnuts, half the cocoa powder (2 tbsp), half of Truvia (2 tbsp), baking powder and salt.
Whisk the eggs lightly, add and mix in 1 tsp vanilla extract.
Add whisked eggs to the flour mixture and blend well.
Cooking time will depend on the size of your tin (and let's face it, every oven is different).
When cooked, the surface should be firm and springy. Mine took about 20 minutes.
Cool completely before assembling the cake.
While your cake is baking, prepare ganache:
Mix softened butter with cream cheese, double cream and 1 tsp vanilla extract.
Add the other half of cocoa powder (2 tbsp), Truvia (2 tbsp) and cinnamon, blend well.
Assemble the cake
Cut into cooled cake horizontally into slices. Depending on the size and shape of your tin, and on how much it raises, you should manage at least two slices, and possibly three.
Assemble your cake, spreading ganache between the layers and on top.
Decorated with chocolate shavings or dust with cocoa powder.
Nutritional information
Serving size:
1 slice
(1/8 of the whole recipe)
Per serving:
438
calories,
4g
net carbs,
40g
fat,
15g
protein
Recipe by Margarita White (@Carbophobic), published on
Cookbooks for low-carb baking and desserts
Do you need more low-carb baking and dessert recipes?
Check out these great cookbooks:

---