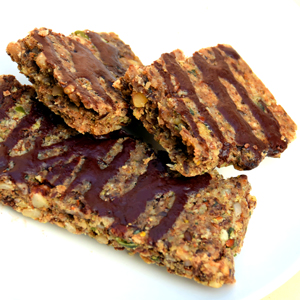 Are your mornings hectic?
They are for most of us. Getting yourself and your family ready for a new day. So many things to organise and remember. And no spare time to cook.
Quick breakfast options like cereal or toast are pure carbs. So how about making some low-carb granola bars? Great for a quick breakfast on the go. Or perhaps a mid-morning snack with your coffee. 
Adapting traditional recipe to be low-carb is easy.
All we need to do is use nuts and seeds instead of grains. And substitute sugar for a sweetener. We will add a spoonful of nut butter, and a couple of eggs to hold the bars together.
The recipe will take about 30 minutes in total. Make them in advance, and they will keep for a week or two. You don't even have to put them in the fridge.
And the best thing is, they only clock up 3g net carbs per bar.
Choosing nuts and seeds
You can use any combination of nuts and seeds. Avoid peanuts and cashews, as they are higher in carbs than other nuts.
Almonds, hazelnuts, brazil nuts, macadamia, pine nuts, walnuts are all great choices.
The only type of seed I included separately is flaxseeds
. Flax is very high in fibre. Fibre binds water and helps to hold the bars together. Otherwise they might be a bit crumbly.
If you don't have flax, substitute with 1 tbsp psyllium husks instead, or a small amount of emulsifier such as xanthan gum
or guar gum
.
Traditional granola bars often include dried fruit. Unfortunately, that's a sugar bomb. So we need to avoid them. Adding a bit of sweetener makes the bars taste sweet enough without the fruit.
I used flaxseeds
Almond butter (or another nut butter) – 2 tbsp (30g / 1oz)
2 eggs
for the chocolate drizzle (optional)
30g (1oz) [CBC show="y" country="uk"]
Instructions
Preheat oven to 190C/375F/Gas Mark 5
Blitz all the nuts and seeds in a blender, or using a hand-held beater. Don't completely pulverise them - overall texture will be more crunchy if you keep some biggish bits as well as very small ones.
Add all other ingredients and mix together thoroughly. You should end up with a dense sticky mixture.
Line a small baking tray (I used 33cm x 23cm one) with baking parchment
Press the mixture firmly into the tray and distribute it evenly in a single dense layer
Bake for 15-20 minutes, or until golden brown
Using a very sharp knife, cut your mix into 16 separate bars
Cool completely
Optional - chocolate drizzle
Melt the chocolate and coconut oil together in a bowl placed on top of a pan of gently boiling water (Bain Marie)
Cool the mix considerably until it runs very slowly - if the mix is too hot and liquid, it will seep into the bars
Drizzle your bars with chocolate, or coat completely if you'd prefer
[raw]
Nutritional information
Serving size: 1 bar Total quantities above produce 16 bars
Per 1 bar: 180 calories, 2g net carbs, 16g fat, 6g protein
---
Recipe by
, published on