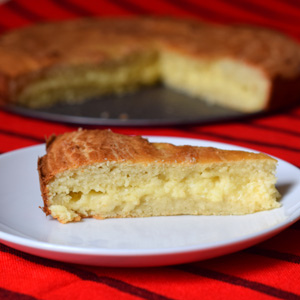 This low-carb mozzarella pie recipe is very loosely based on Imeretian Khachapuri – delicious savoury pie with goat cheese filling. Imereti is a region in Georgia (the country in Caucasian mountains in Eurasia rather than the US state of Georgia).
Georgian cuisine is fantastic and Georgian people are justifiably proud of it.
This is why I am calling this dish "mozzarella pie" – with all the substitutions I am about to make to the traditional recipe, I could not possibly presume to call it "khachapuri" without attracting the wrath of those who know.
Low-carb pie – Basic ingredients
Traditionally, the dough for this recipe is made with white flour and yoghurt or kefir. I am going to use almond flour and cream cheese instead. After some experimenting, I found that cream cheese does a better job of holding the texture together.
The basic filling for this pie is cheese. Traditionally, a special sort of local goat cheese is used, but it's very hard to find outside Georgia. So I am going to be the philistine and substitute with grated mozzarella.  Other options could be feta cheese, halloumi or any semi-soft goat or sheep milk cheese.
Your chosen cheese needs to be grated or chopped into very small bits, and mixed with egg and butter to form a delicious, gooey cheesy filling.
Low-carb pie variations
The filling works perfectly well as above, but you could jazz it up further by adding herbs or spices. Coriander and spring onions are sometimes added to the traditional version, but since we have already deviated so far away from that, why not throw all caution away and try adding other ingredients, for example, rosemary, garlic, basil, olives, sun-dried tomatoes. Just remember to never refer to it as khachapuri once you've done all that. (It is but a humble cheese pie 🙂 )
Best way to serve this pie
As is the case with other cheesy baked goodies, this is the perfect companion for red wine. The only concern is that you are very likely to consume huge amounts of both, as it will be difficult to pull yourself away. Maybe as a really naughty cheat meal?
The obvious combination above aside, the pie goes well with antpasti type snacks, like olives, sun-dried tomatoes and cold meats.
Low-carb mozzarella pie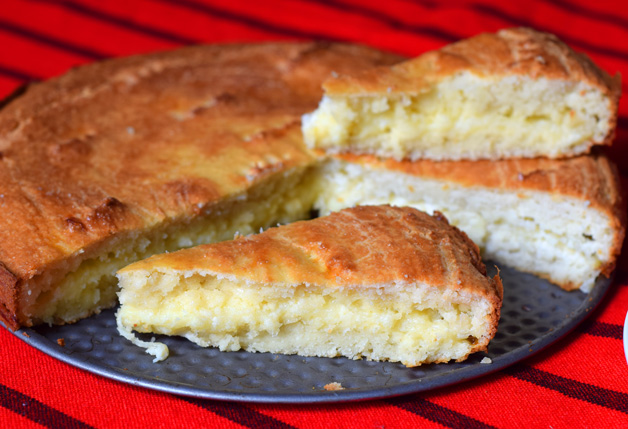 Low-carb savoury pie with almond flour crust and soft cheese filling, perfect with a glass of red wine and perhaps some anipasti!
Prep time:15 min | Cook time:30 min | Total time:45 min Yield: 1 9" pie (12 servings)
Ingredients
For the crust
3 cups (270g / 9oz) ground almonds
200g full-fat cream cheese like Philadelphia
2 eggs (1 whole and 1 separated into yolk and white)
1 tbsp vegetable oil
1 tsp baking soda
1/2 tsp arrowroot
1/2 tsp salt
for the filling
200g mozzarella or another semi-soft cheese, grated or chopped
50g butter
1 egg
optional: chopped herbs e.g. coriander, spring onions, basil
Instructions
Preheat oven to 180C/350F/Gas Mark 4
Mix all the dry ingredients for the crust together
Beat the cream cheese thoroughly with 1 whole egg, 1 egg white (save the yolk) and vegetable oil
Add dry ingredients to wet ingredients and mix well together
Leave to stand for a little while you make the filling
Mix grated cheese, melted butter and egg, plus chopped herbs if using
Grease a 9-inch springform cake tin with butter
Take half of your crust mix and press into the bottom of the tin with your hands
Take your filling mix and lay it out as the second layer on top of the crust
Take the remaining half of the crust mix and lay it out as the top layer
Smooth the top and pierce with a fork in several places
Beat the egg yolk and brush the top of the pie with it
Bake for 30-40 minutes or until the top is golden (keep checking)
Serve hot or cold
Nutritional information
Serving size: 1 slice (1/12 of the whole pie) Per serving: 293 calories, 2g net carbs, 25g fat, 13g protein
---
Recommended Keto cookbooks
Do you need more Keto recipes? Try these great cookbooks.


>