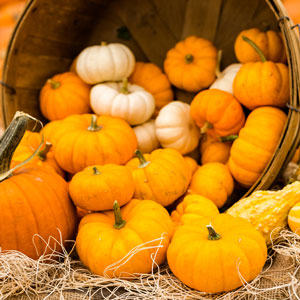 Autumn is finally here and Halloween is just a couple of weeks away. And you know what that means! Everyone is going mad with pumpkin recipes. My Pinterest feed is full of orange and yellow colours in every shade. I am definitely not complaining – I love this time of year.
With only 6g net carbs per 100g, pumpkin is the perfect low-carb ingredient. You can do just about anything with it – soups, side dishes, breads, desserts, ice cream…
So, today I am going to jump on the bandwagon with a round-up of low-carb recipes with pumpkin.
Making pumpkin puree
Many pumpkin recipes start with pumpkin puree. There are many ways to make it, or you can buy ready-made puree in cans. Unless you are very short on time, I recommend buying fresh and cooking from scratch. This is always better as you will know exactly what's in your food.
In the oven – this method is less fiddly, but takes longer overall. Cut the pumpkin in half, scoop out the seeds and stick both halfs in the oven at 350F/180C/Gas Mark 4 for about 1-1.5 hours or so, until flesh is completely soft. Cool and scoop out the flesh. Mash into a puree.
Steaming or boiling – this requires peeling which is always a bit of a nightmare. Cut the pumpkin in half and scoop out seeds. Peel the pumpkin (this part is a pain, I do admit). Cut into small chunks and boil or steam for about 30-45 minutes until very soft. Mash using a potato masher or handheld mixer.
Pumpkin contains quite a lot of moisture anyway, and can soak up even more water when boiled or steamed. If your puree is homemade, it is difficult to predict exactly how much extra water it will absorb. The amount of moisture affects the texture of your recipe (especially with baking), and also nutritional value including carbs count.
If using canned puree, use the values as per nutritional label on the tin – there is a lot of variance brand by brand, depending on the amount of water. When making homemade puree, note down the weight of the pumpkin BEFORE you cook it, and use that to calculate the nutritional values.
Low-carb pumpkin recipes
Here's my selection of the best pumpkin recipes for this month.
Recipe from Fitcackery | 5g net carbs per slice
Recipe from All Day I Dream About Food | 5g net carbs per serving
Recipe from Up Late Anyway | 2g net carbs per slice
Recipe from I Breathe I Am Hungry | 6g net carbs per serving
Recipe from Low Carb Support (that's me!) | 1.5g net carbs per biscuit
Recipe from Holistically Engineered | 7g net carbs per waffle
Recipe from Sugar Free Mom | 4g net carbs per serving
Recipe from Low Carb So Simple | 4g net carbs per muffin
Recipe from Maria Mind Body Health | 5g net carbs per slice
Recipe from KetoDietApp | 6g net carbs per serving