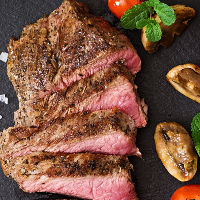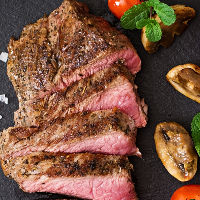 Dukan Attack is the first phase of the Dukan Diet, designed to wean your body off excessive carbs and kick-start your metabolism into fat-burning. It is a crucial part of the programme, and you must stick with it in order to get the full benefits of the system. Unfortunately, eating only protein can be a bit brutal initially if you are not used to it.
I think the key to getting through it is taking the time and effort to make nice meals – please don't try to get through Attack on tinned tuna!
Below are my favourite protein-only meals that are very simple but still a real treat.
---
Fillet steak
This one is easily my number one meal, as I love steak in all shapes and forms. Fillet is the leanest cut and so would be your best bet on Dukan Attack.
As always with meat, if you can, go for really high-quality organic meat from a proper butcher. There are also farms that let you order online and deliver fresh meat to your door. It will be more expensive, but much nicer than anaemic vacuum-packed cuts you get on supermarkets' shelves.
Take the meat out of the fridge at least 20 minutes before cooking. Season with salt and pepper just before cooking.
You can either pan-fry or grill it – for both, make sure the temperature is piping hot before cooking. If frying, do the Dukan trick of oiling the pan and then wiping it with paper towel to leave just a tiny barely-there coating of oil.
For average fillet steak, cooking time varies from about 5 minutes for very rare, to 20 minutes for utterly scorched (I actually know some people who like it that way). Always rest your steak for at least 5 minutes before serving.
---
Smoked salmon
Smoked salmon is another lovely protein-only food. Go for a mildly smoked version – it will taste better on its own than the more heavily smoked ones.
To add some variety, have some of your permitted fat-free dairy on a side, for example, fat-free cottage cheese or quark.
You could also make a Dukan galette out of your daily oat bran, and have it with salmon instead of bread.
Variation: if the thought of rare fish does not scare you, salmon sashimi is another great protein-only meal. I usually get mine from Itsu – you can ask them to make it without any side salad.
---
Rotisserie chicken breast
The best thing about rotisserie chicken is that you don't need to cook it – just pick one up ready from the shop!
The part suitable for Attack is the breast (you will need to get someone else to help you eat legs and wings!). You will also obviously need to discard the skin – that's where all the fat is concentrated.
However, even with all these caveats, this is still a very nice meal.
You could have a little dip on the side – mix fat-free fromage frais or yoghurt with a little mustard.
---
Seafood
Fresh seafood is a great way to bring variety to protein-only existence.
Scallops are a real treat – they taste so tender and sweet, you won't believe they are protein!
The best ones still have their shells on, but you will need to go to a fishmonger to find them.
The only cooking they need is a bit of grilling for 3-4 minutes.
Other seafood options to try are prawns, squid, mussels and oysters – all very high in protein, low in fat and perfect for Dukan Attack.
---
Tom Yam soup
Tom Yam is a traditional Thai soup which can be easily adapted for Attack, by eliminating vegetables. It is still extremely nice even in this stripped-out version – hot, gently fragrant and very filling. Soup is generally very helpful on Attack, as its volume helps you to feel full.
This one does require a bit more cooking that the other options above, but is still very simple.
Basically, you will need some stock, some Thai herbs and spices and some chicken and/or seafood such as prawns. Thai spices may sound exotic but in fact are available from most supermarkets these days.
Tom Yam Ingredients:
2 pints of stock – traditional version uses fish/seafood stock, but it works ok with chicken stock too – when on Attack, do make your own stock, as shop-bought pre-prepared versions can contain carbs
some prawns or strips of chicken breast (optional)
2 lemongrass stalks, chopped into several bits and bruised
1-inch piece of galangal (use ginger if you can't find galangal)
3 chillies
kaffir lime leaves, torn into bits
fresh coriander and Thai basil, to garnish (optional)
1 lime
Method
prepare your stock: boil chicken or fish bones for an hour or so and strain
chop up all spices and herbs as above and add to the stock (except lime, coriander and basil)
simmer for about 10 minutes
add the prawns and simmer for another 1-2 minutes (if using chicken strips, allow about 10 minutes for them to get cooked)
turn off and leave to stand for 5 minutes
squeeze the juice from the lime into your soup just before serving
garnish with coriander and basil, if available
---
More recipes and information
Dr Dukan published several official cookbooks, which include a whole range of Attack recipes.
The Dukan Diet Recipe Book
The Dukan Diet Cookbook: The Essential Companion to the Dukan Diet
Find out more about Dukan Diet:
Visit the official UK website of Dukan Diet
Read more about Dukan diet on our website
Other websites:
DukanRecipes by Maria Martinez (includes some Attack-friendly dessert recipes)
---
Supplementation on Dukan diet
Dr Dukan does not specifically advise to take multivitamins, however, if you do wish to take one, check out our Nutri-Align Multivit formula, designed exclusively for low-carb dieters.