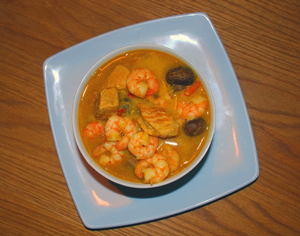 Most people get Thai curry as a takeaway, or make one at home using a pre-made curry paste. Unfortunately, many of these commercial products include sugar and all sorts of other artificial ingredients.
You'd be better off making your own
low-carb Thai curry
from scratch – it is not very difficult. The only required tool is a blender, and ingredients you would need are available from most UK supermarkets. This way, you will know exactly what's in your curry and whether it is suitable for your diet.
The main variations of Thai curry are green, red and yellow. They use almost the same basic ingredients, but red and green versions get their colour from red or green chillies respectively, whereas the colour of the yellow curry comes from turmeric.
Below I will provide general guidelines for cooking a low-carb Thai curry, which you can adapt for your own taste. Quantities below assume you are cooking for two.
Curry paste
1 shallot or 1/2 red onion
4-5 cloves of garlic
Thumb-size piece of galangal or ginger
3-4 stalks of lemongrass
1 can of coconut milk or coconut cream – check that it is unsweetened
2-5 chillies (depending on how hot you would like it!) – green for green curry, red (fresh or dried) for red or yellow curry
Optional for green curry – kafir lime leaves
Optional for red curry – 1 tsp tomato ketchup or tomato puree
Main ingredients
1lb or so of protein food – anything really – beef, lamb, chicken, turkey, fish, prawns – whatever you fancy, on its own or combined. I often use a combination of chicken and prawns in the same dish (as on the photograph)
1 cup of stock – beef, chicken, fish, vegetable – whatever goes with your chosen protein as above
1/2lb of vegetables – traditional choices would be bell peppers, tomatoes, aubergines and mushrooms. You can also add cauliflower to make up for the absence of potatoes.
Herbs, spices and condiments
1 tsp ground cumin
1 tsp ground coriander
Fresh lime juice (use 1/2 lime)
Yellow curry only – 2 tsp turmeric
1 tbsp fish sauce – use a sugar-free version if you can find one. If not, you can substitute with several salted anchovies or 1tsp anchovy paste.
Rice substitutes
Obviously, jasmine rice is not an option on a low-carb diet – use cauliflower "rice", boiled shredded cabbage, or fried grated zucchini instead.
Method
Roughly chop all ingredients for the curry paste and blitz them together with coconut milk in a blender
Heat some oil in a wok or a large pan, add the paste and fry for about 3-5 minutes
Add stock and spices and bring to the boil
If using vegetables, add them now
If using meat/poultry
Quickly brown cubed meat or poultry in a frying pan and add to the curry
Simmer for about 45-60 minutes, or until meat is cooked through
If using fish
Fish will need less time to cook – let the curry sauce simmer on its own for about 30 minutes, then add fish for another 15-20 minutes or so.
If using prawns
Prawns will need less time still – raw prawns will need about 5-7 minutes, cooked prawns about 2-3 minutes, so let the sauce simmer by itself for 30-40 minutes or so, and then add them in the very end
Once your protein ingredient is cooked
Add lime juice and fish sauce (if using) and remove curry from heat
Leave to cool for 10-15 minutes before serving
Exact carb count will depend on the vegetables you choose. If you are on a very low-carb plan, remember to also count carbs in garlic, ginger and chillies – they do add up.
Authenticity disclaimer – please note I am not Thai, nor do I claim to be an expert on Thai cooking. I have, however, cooked Thai curries at home many times, and I believe that they are on a par with what you would get in most Thai restaurants in the UK. If there are any experts out there who would like to comment on this article, or make any suggestions to make the recipe more traditional and authentic, I would gladly include those on this page with a full credit and link back.