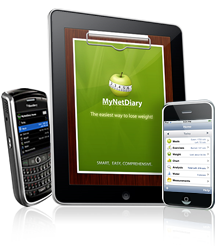 MyNetDiary is a calorie counter available both online and as an app.
Food tracker is the core of this tool – you input the food you've eaten, and MyNetDiary calculates and stores the amount of calories consumed, as well as the breakdown by macronutrients, including carbs and net carbs.
You can also track exercise by choosing from a database of over 500 activities – the amount of calories expended will be calculated, based on your current weight and age, and subtracted from your daily total.
"Pro" app version also stores body measurements such as waist and hips circumference. Recording all of this information in one tool provides a great way to track your progress, both on a daily basis and in the long term.
MyNetDiary food databse is really huge – according to the website, it includes over 400,000 items. Although the team are based in the US, the database covers UK foods as well, including products from major supermarkets like Tesco, Sainsbury and M&S, and High Street chains such as Pret-A-Manger. You can add your own custom foods and recipes. One really cool feature availble for iPhone users ("Pro" version) is the ability to add food and its corresponding nutritional value by scanning barcode on the packaging.
You can use the tool both online and as an app, and consolidate all of your data over time in one place. There are various charts and reports you can run to see how well you are doing, and planning tools to help you improve going forward. Further advice, tools and community support are available from their website.
The free app is available for iPhone/iPad, BlackBerry and Android. "Pro" version includes some extra features and costs £2.49 – but all key features are available in the free version.  There are multiple options for web subscriptions on MyNetDiary website.
Having used the app for a while, there seems to be one small bug, where the app doesn't always recognise the internet connection being present, so sometimes needs closing and re-opening before it picks up the connection.
Another small point to bear in mind is that many of the foods in the database have been added by other users, and have not necessarily been checked or verified. These entries are not always entirely accurate – people might make a mistake, or perhaps only add overall calories instead of the detailed breakdown of all nutrients including carbs.  So always double check the data if using "contributed" entries (they are clearly marked as such in the database).