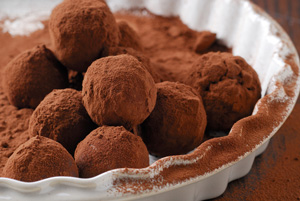 Chocolate truffles are a classical French confectionery recipe.
Rich intense taste of chocolate is offset by a smooth creamy texture. They make a wonderful sophisticated treat for any chocoholic.
The great news is that we can easily make low-carb chocolate truffles.
We just need to use sweetener instead of sugar in the basic recipe.
These truffles are so chocolatey and rich, you are likely to be satisfied with just a few. I normally need only one or two to satiate the sweet craving.
Truffles are made from chocolate ganache – a smooth dairy-based paste. They contain only two key ingredients: dark chocolate and double cream.
For a low-carb version, we need to use unsweetened chocolate, and add a sugar-free sweetener to the mix.
The secret to great truffles is getting the highest possible quality products – the purest, darkest chocolate, and the freshest cream you can find.
Best sugar-free chocolate brands
The best chocolate for this recipe would be premium, unsweetened dark chocolate – ideally just 100% cocoa solids and nothing else.
I found the following brands that produce top quality sugar-free chocolate:
Ghirardelli (the US division of Swiss chocolatiers Lindt & Sprüngli) produce solid unsweetened chocolate blocks
Willie's Cacao produce a range of organic Stevia dark chocolate for this recipe (and skip the sweetener).
Ganache proportions for truffles
Proportions for the truffles ganache are one part double cream to two parts chocolate – measured by weight rather than by volume.
For example, today I used 3.5oz cream (100ml) to 7oz chocolate (200g).  This makes about 20 truffles.