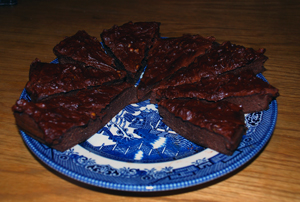 This Nut Butter-Frosted Brownies recipe is from The Low-Carb Gourmet
.
It is very easy and takes about 30-40 minutes in total.
Total 12g net carbs per 100g
360 calories, 30g fat, 10g protein


Ingredients:
3 large eggs
115g (4oz) unsalted butter
3 tbsp soured cream
8 tbsp Splenda (I used 6 drops of liquid Splenda)
1 tsp vanilla extract
45g (1.5oz) ground almonds
75g (2.5oz) fine oatmeal
30g Dutch-processed cocoa powder (I used Green & Black Cocoa)
1.5 tsp baking powder
For the frosting:
30g (1oz) unsweetened chocolate
1 tbsp natural unsweetened peanut butter
40ml (2 oz) cream
4 tbsl Splenda (I used 3 drops of liquid Splenda)
Method:
Preheat the oven to 180C/350F/Gas Mark 4
Blend together eggs, melted butter, soured cream, sweetener and vanilla
Mix almonds, oatmeal, cocoa and baking powder
Combine egg mixture with dry ingredients
Pour into a baking tin and bake for 25 minutes
When ready, let cool
Make the frosting – melt chocolate in a bowl over boiling water, stir in peanut butter, cream and sweetener
Pour frosting over cooled brownies and spread
Let cool before cutting
Nutritional information:
According to the book, this amount of mixture makes 24 brownies, with 2.8g of carbs and 93 calories per brownie. My recalculations confirm this value. In total:
per 100 grams of the mixture – 360 cal, 12g net carbs, 30g fat, 10g protein
per 1 brownie (25g) – assuming 24 brownies are made from amounts listed above – 89 cals, 3g net carbs, 8g fat, 2g protein
Overall impression:
These are very easy to make, and nutritional make-up is pretty good for a low-carb cake. However, they tasted more like a frosted chocolate cake than like a brownie.  The recipe doesn't include any chocolate inside the actual brownie – it all goes into the frosting, so you don't get this wonderful experience of moist and rich core. Overall, I would say these are ok, considering their low-carb credentials, but not great.
The quest for a perfect brownie continues! I will keep you posted.