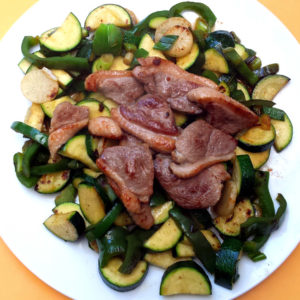 You get home in the evening after a long day at work.  You are tired and hungry.
You know the cleanest way to eat is to cook your food from scratch.
But the last thing you need right now is to spend hours in the kitchen.
The answer is to use fast cooking methods.
This mini-series of posts covers quick ways of throwing together a nutritious low-carb meal in 20 minutes or less.
Today we will look at pan-frying.
Pan-frying low-carb food
Pan-frying is one of the easiest and fastest cooking methods. It works great for:
most low-carb vegetables (except salad-type veg like lettuce or cucumbers)
meat and poultry – cut into thin strips, or minced
bacon and sausages
fish
You can combine these ingredients in countless ways to create perfect low-carb meals in about 15-20 minutes.
You will need at least two non-stick frying pans. Sometimes you can cook your meat and veggies together, but usually it's easier and better to do them in separate pans.
Oil for pan-frying
My preferred oil for frying is coconut oil. You can use any other vegetable or nut-based oil with a high smoking point.
Don't use olive oil for frying – it's not suitable for high-temperature cooking.
Low-carb vegetables for pan-frying
You have lots of options. Try:
cabbage
peppers
courgettes (aka zucchini in USA)
aubergines (aka eggplants in USA)
mange tout
spinach
broccoli stems
Brussels sprouts
mushrooms
okra
You can add spring onions, herbs, garlic and ginger to jazz them up.
Low-carb meats for pan-frying
This method is great for fatty cuts of meat, like duck breast with skin, neck of lamb, sirloin steak.
When cooking time is a priority, just slice your meat up very thinly. It will get cooked over high heat in several minutes.
Minced meat takes a little bit longer. You can speed it up by breaking all the lumps into very small bits, and spreading them out in a thin layer in a large pan.
Pan-fried duck breast with green vegetables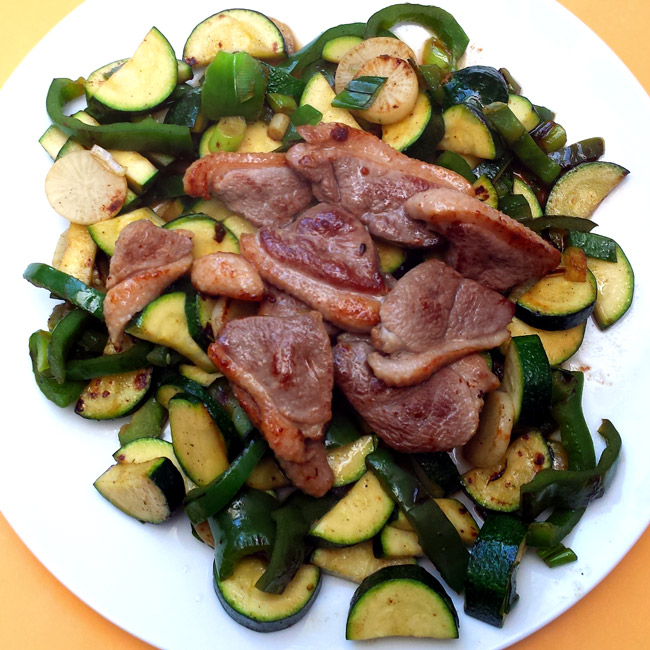 Tender slices of duck on the bed of soft green vegetables – perfect weekday low-carb dinner
Prep time:5 min | Cook time:10 min | Total time:15 min
Yield: 2 portions
Ingredients
2 duck breasts with skin on
1 tbsp coconut oil
2 courgettes (aka zucchini)
1 daikon
2 green bell peppers
1 spring onion stalk
salt and pepper
Optional: garlic, ginger, Chinese five-spice
Instructions
Slice the duck breasts across into thin strips, about 3-5mm thick
Chop up the vegetables
Get the vegetables cooking first
Heat up some coconut oil or another vegetable oil (except olive oil) for 1 minute or so
Stick your veggies in, add salt and pepper
Optional: add Chinese Five-Spice, or another oriental-flavoured spice mix. If you have the time to chop garlic and ginger, they will go well with this dish.
Fry on high-medium heat for about 10 minutes, stirring occasionally
You can vary the frying time depending on how you prefer your veggies – very soft, or a bit crunchy
While your veggies are frying, start cooking the duck
Get a second frying pan and heat it up dry for 1-2 minutes on high heat. No oil required – duck breast will quickly shed lots of fat into the pan.
Throw your sliced duck on the hot pan and fry for about 2-3 minutes, turning slices over at least once
Switch off the heat and season the duck with salt and pepper
Put your cooked veggies on a plate and add fried duck slices on top
Nutritional information
Serving size: 1 serving (1/2 of the whole recipe)
Per serving: 560 calories, 8g net carbs, 27g fat, 50g protein
Recipe by Margarita White (@Carbophobic), published on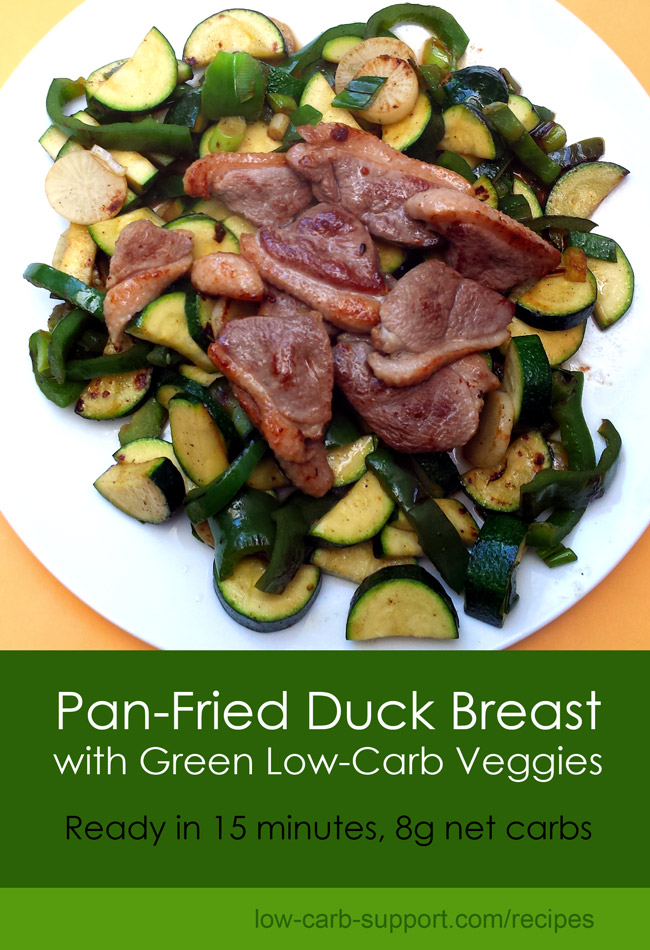 ---
Recommended Keto cookbooks