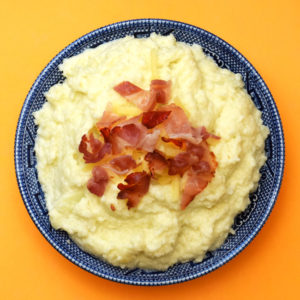 Have you already tried cauliflower mash? If you do it right, you will never miss mashed potatoes.
The basic recipe is self-explanatory: cook some cauliflower, and mash it. Simple, eh?
You could just do that and get an adequate low-carb side dish. It might be a bit watery and taste not so great, but at least it will be low-carb.
But what if you want mash that's light, fluffy and scrumptious? An equal companion to your delicious meat, fish or sausages? A dish to enjoy for its taste, as well as its low carbs content?
Cauliflower can deliver. You just need to know a couple of simple tips.
Here's how to turn boring basic cauliflower mash into a truly delectable dish.
Use fresh cauliflower, not frozen
Fresh cauliflower works much better than frozen for mashing. Both texture and taste improve when you use fresh.
If you can, get the whole head of cauliflower rather than pre-cut chunks. It will stay fresh longer this way.
Cauliflower is a durable vegetable – it can last for several weeks in the fridge.
Don't boil cauliflower – steam it
Most cauliflower mash recipes start with boiling cauliflower. But cauliflower absorbs a lot of water during boiling. The texture of your mash is already doomed.
You are advised to squeeze excess water out, but that only helps a little, and anyway, who needs the extra hassle?
Steaming is a much easier way. Cauliflower gets cooked without being watery.
Use a steamer if you have one (steaming is great way to cook most vegetables and fish, so a steamer is well worth considering).
If you don't have a steamer, get a small pot of water, metal colander and a lid or a plate to cover it.
Steaming takes about 10 minutes.
If you like your mash to be really dense, you can squeeze some water out of your cauliflower even after steaming. I usually don't bother, and it comes out about the same texture as mashed potatoes.
Add butter, cream and cheese
A generous amount of fat is the secret to making cauliflower taste scrumptious.
I add about 1oz (30g / 2 tbsp) each of butter and double cream (that's heavy cream in the USA) per 1 head of cauliflower (1lb / 450g).
The cream is important. It adds rich smooth tones to the taste, but also lightens up the texture and makes it more fluffy.
Finally, strong-tasting cheese like cheddar or parmesan helps to jazz up the taste of cauliflower. Let's face it, it's not the most exciting tasting vegetable on its own. Add at least 1 ounce (30g / 2 tbsp).
Don't pulverise it – use a masher or a hand-held beater
Powerful modern food processors and blenders are great time savers. But they are not the best choice for cauliflower mash.
I love my Blendtec. But it pulverises poor cauliflower into the complete oblivion. Texture becomes liquidy and lifeless.
For better results, use a hand blender – or even a manual masher. This gives you more control over texture, so you don't overdo it. It creates a more natural, fluffy and light mash.
If you must use a food processor, choose the gentlest possible setting.
Try adding other root vegetables
You can diversify the taste of your mash by adding low-carb root vegetables, for example:
celeriac – 7g net carbs per 100g
swede (aka rutabaga) – 5g net carbs per 100g
turnips – 4g net carbs per 100g
They take a little longer to cook than cauliflower, so steam separately and start them first.
Each has a strong taste that would interact with cauliflower to make something completely new.
Jazz it up
If you follow all the steps above, you will end up with a lovely simple side dish that goes well with anything.
Once you are used to making the basic recipe, you can jazz it up further by adding extras. Here are some ideas:
caramelised onions
mashed roasted garlic
fresh chives
spring onions
fried thin slices of chorizo
crumbled crispy bacon or pancetta
blue cheese (if you like the taste)
crumbled feta cheese
Don't settle for bland watery cauliflower mash! Use these simple tips to make it wonderful.
Do you have a tip on making cauliflower mash?
If you have any further tips, please share with us in the comments below.
Cauliflower Mash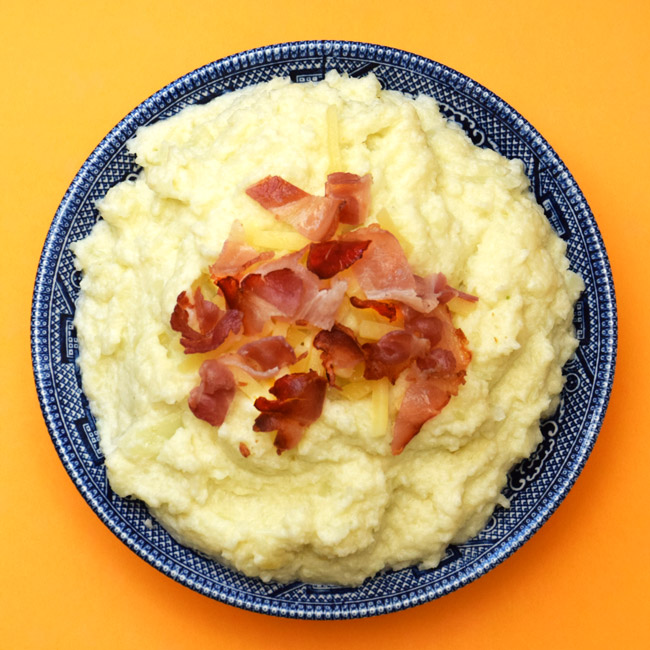 Perfect low-carb side dish: scrumptious and fluffy cauliflower mash
Prep time:10 min | Cook time:10 min | Total time:20 min
Yield: 2 portions
Ingredients
1 head of cauliflower (1 lb / 450g / 4.5 cups)
1 oz (30g / 2 tbsp) butter
1 oz (30g / 2 tbsp) double cream (heavy cream in the USA)
1 oz (30g / 2 tbsp) grated mature cheddar
Salt and pepper
Instructions
Cut the cauliflower in chunks.
Steam them in a steamer or colander over boiling water for about 10-15 minutes (depending on the size of the chunks).
Keep checking softness with a fork or a knife. Cauliflower needs to get soft – about the same as boiled potatoes.
When ready, put your cooked cauliflower into a bowl.
Add butter, cream, cheese and seasoning to taste
Mash using a hand mixer or a manual masher – or the gentlest setting on a food processor
Optional: sprinkle with herbs, cooked meats or extra cheese (see the list of extras ideas above)
Nutritional information
Serving size: 1 serving (1/2 of the whole recipe)
Per serving: 285 calories, 5g net carbs, 24g fat, 8g protein
Recipe by Margarita White (@Carbophobic), published on
---
Recommended Low-Carb Cookbook
Do you need more ideas for low-carb side dishes?
Check out this cookbook:
20 Low Carb, Paleo and Primal Side Dish Recipes.
View the book on Amazon
---