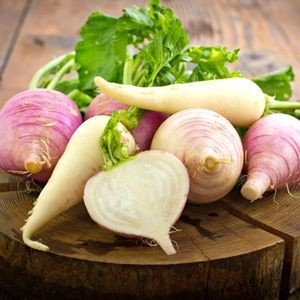 Do you miss potatoes on your low-carb diet?
I used to miss them so much. Problem is, they are so versatile. So once you cut out potatoes, you also cut out fries, crisps, mash, roast potatoes… Sigh.
Don't despair. There is another way.
The potato might be the most popular root vegetable, but it isn't the only one.
Its siblings in the root vegetable family are less famous but taste just as good.

They are not victims of intensive farming like potatoes, so they contain less starch and fewer carbs.
You have probably already tried cauliflower and courgettes. But have you considered celeriac, swede (also known as rutabaga), turnips, daikon (also known as mooli) and kohlrabi?
All these clever vegetables can fill the gap in your food where potatoes used to be.
They all work well roasted, boiled, mashed, steamed or added to soups and stews. A bit of fat and basic seasoning is all they need.
Let's look at what each one can do for your diet.
1) Celeriac – 7g net carbs, 42cal per 100g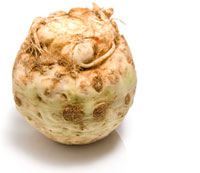 Celeriac is the root of a special variety of celery. It isn't the best-looking vegetable in the world. Most people overlook it as something utterly baffling.
But celeriac's rough exterior hides flavourful delicate flesh. Subtle hint of celery enhances the taste but doesn't overwhelm it.
Celeriac as low-carb potato substitute – Oven chips (oven fries)
Take one large celeriac, peel its ugly outer skin
Cut into slices and then into fat chips
Boil quickly for 2 minutes or so in boiling salted water, uncovered
Drain the chips
Spread over a baking sheet in a single flat layer
Add a generous amount of oil, season with salt and pepper
Roast in a hot oven for 30-35 minutes at around 230C (210C fan oven), Gas Mark 8, 460F
2) Daikon (aka mooli) – 2g net carbs, 18 cal per 100g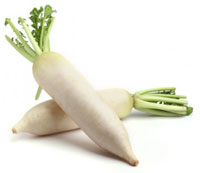 Daikon is a variety of radish popular in South East Asia. You can eat daikon raw, pickled or cooked. We are including daikon in this selection in its cooked form. It is most like potatoes when steamed, boiled or fried.
Daikon as low-carb potato substitute – Boiled
Take 2 large daikon and peel using potato peeler
Slice into thick circular slices
Boil in a large pan of salted water for about 30 minutes
Test with a knife or a fork – just like potatoes, daikon should be quite soft when ready
Drain and serve with butter or olive oil, pepper and salt
3) Swede (aka rutabaga) – 5g net carbs, 35 cal per 100g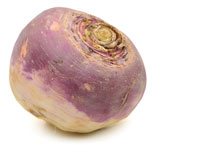 Swede is a root vegetable that originated as a cross between the cabbage and the turnip. Popular in Scandinavia, swede works well roasted, baked and boiled.
You can use it in side dishes, soups, stews and juliennes.
Swede as low-carb potato substitute – Roasted
Take one large swede, peel and cut into chips
Tip into a shallow roasting dish, add olive oil, salt and pepper (plus maybe some rosemary)
Roast for 30-35 minutes in a hot oven 220C (fan 200C), Gas Mark 8, 400F, until crisp and golden on the outside
4) Turnips – 4g net carbs, 28 cal per 100g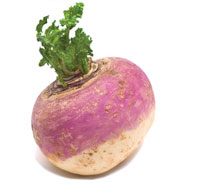 Turnips are universal and very popular in England.
If you are British, you will probably remember how Baldrick once spent £400,000.
You can bake, boil and steam turnips.
Turnip as low-carb potato substitute – Mashed
Take 3-4 turnips, peel and cut into chunks
Put them in a large pan of boiling water, then simmer for 20-30 minutes until tender
Drain and mash with 1.5oz (50g) butter and 1 tbsp cream
Season with salt and pepper
5) Kohlrabi – 2g net carbs, 27 cal per 100g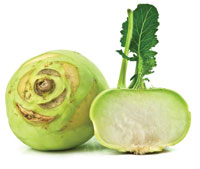 Kohlrabi is a Sputnik-like vegetable with a solid round bulb and shoots sticking out like antennas. It has a delicate flavour and crunchy texture, turning soft and mild when cooked.
Boiling, steaming or frying are the best ways to cook it.
Kohlrabi as low-carb potato substitute – Fritters
Take 1-2 large kohlrabi, cut off the leaves, peel and grate
Put the grated kohlrabi in a tea towel and squeeze to remove moisture as much as possible
Add 1-2 eggs, salt and pepper and mix
Add oil to a frying pan or skillet – enough for about ¼ inch (5mm) depth and heat over medium high heat
Place small patties of the mixture into the oil
Fry on one side until brown, then on the other side
Place on a paper towel before serving to remove excess oil
6) Cauliflower – 2g net carbs, 23 cal per 100g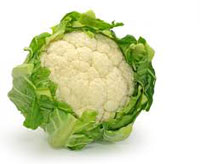 We are now at the better-known end of the spectrum with cauliflower. Cauliflower is the star of many low-carb recipes. Mashed cauliflower and cauliflower rice are popular low-carb staples. You can also roast and fry cauliflower, add it to stews and soups, and make into its own potato-like dishes.
Cauliflower as low-carb potato substitute – "Tater tots"
Cut one large head of cauliflower into chunks
Steam or boil them, then mash using potato masher or blender
Add 2 eggs, ½ cup (2oz / 60g) of parmesan cheese, ½ large shredded onion
Form round or oval shapes and place them on a greased baking tray
Bake in a hot oven 220C (fan 200C), Gas Mark 8, 400F, for about 20 minutes, or until crisp and golden on the outside
More low-carb recipes with cauliflower
7) Courgettes – 2g net carbs, 20 cal per 100g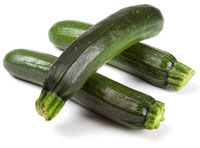 And last but not least, we get to courgettes (that's zucchinis in USA). Another great favourite with the low-carb crowd, courgettes can go into all sorts of dishes. Fries, "zoodle" noodles, lasagne sheets are just some examples.
Courgettes as low-carb potato substitute – Crisps (that's chips in USA)
Slice courgettes into thin slices
Press paper towel over them to remove as much moisture as possible
Put the slices on baking-parchment lined baking trays in a single layer – make sure they don't overlap
Brush all slices with olive oil
Bake in a barely hot oven at around 110C / 225F / Gas Mark ¼ for about 2 hours or even longer – until crisps start to brown and are crispy rather than soft
Season with salt and pepper
More low-carb recipes with courgettes
Additional low-carb(ish) options
The options below are bit higher in carbs. Depending on your daily carb limit, you might be able to fit these in as well.
| | | |
| --- | --- | --- |
| Carrots | 7g net carbs | 41 cal |
| Beetroot | 7g net carbs | 43 cal |
| Butternut squash | 10g net carbs | 45 cal |
| Parsnips | 13g net carbs | 75 cal |
| Sweet potatoes | 17g net carbs | 86 cal |
Try out these ideas and escape from the overwhelming dominance of potatoes!
Do you have any other suggestions for low-carb potato substitutes?
---
Recommended Low-Carb Cookbook
Do you need more ideas for low-carb side dishes?
Check out this cookbook – 20 Low Carb, Paleo and Primal Side Dish Recipes.
View the book on Amazon
---