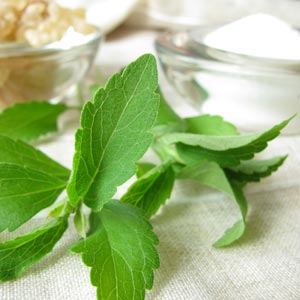 Sugar is finally getting some media attention as the ultimate diet demon.
Dieticians now agree that refined sugar has no nutritional benefits. Everyone would be better off cutting it out completely.
Low-carb dieters knew about this for a long time. White sugar is pure carb. There is no place for it whatsoever on a low-carb diet.
So does this mean you will never eat anything sweet again? Of course not!
Sugar substitutes and sweeteners are now widely available, both online and in the High Street supermarkets, shops and cafes.

With dozens of different products out there, I often get asked which ones are the best options for a low-carb diet.
Below is a quick overview of popular products, as well as my personal choices, based on nine years of experience as a low-carb dieter and baker.
Sugar substitutes – quick overview
Generally speaking, all sugar substitutes can be divided into three big groups:
artificial sweeteners
sugar alcohols
plant extracts
1. Artificial sweeteners
These are artificially synthesised compounds, usually much sweeter than sugar. Carb counts are typically zero or close to zero, when taken in pure form.
The most popular products in this group include:
aspartame (brand names NutraSweet, Equal)
saccharine (Sweet'N'Low)
sucralose (Splenda, EZ-Sweetz)
acesulfame potassium (Nutrinova)
Because of their intense sweet taste, artificial sweeteners are often "bulked" with fillers, to make them more like sugar in texture and taste. Some fillers are high in carbohydrates in their own right (for example, maltodextrin in Splenda).
Some artificial sweeteners – especially aspartame – have a bad reputation for adverse health effects.
The best option in this group is sucralose. It doesn't have harmful side effects, unlike some other substances in this group. It has a long track record of safe human consumption, and was recommended by Dr Atkins as the preferred sugar substitute on Atkins Diet.
2. Sugar alcohols (polyols)
Sugar alcohols come from natural substances, but are usually processed heavily.
Their molecular structure is somewhere in between sugar and alcohol.
Our bodies cannot process polyols fully. So although their overall carb count can be high, most of the carbs don't get absorbed or metabolised in the body. 
So the net carbs count is much lower than that of sugar.
The exact amount of net carbs varies from product to product. Sugar alcohols can often cause digestive upset and act as laxatives.
erythritol (the lowest carb count)
xylitol (the highest carb count)
mannitol
sorbitol
isomalt
lactitol
For more information about sugar alcohols, including nutritional information and net carb counts, have a look at this overview of sugar substitutes at KetoDietApp blog.
Out of all sugar alcohols, erythritol has the lowest net carbs content and fewer digestive side effects, so I would recommend it as the best choice in this group.
3. Plant-based sweeteners
Stevia is by far the most popular and widely available plant-based sweetener.
The leaves of Stevia plant are naturally sweet but contain no carbs. Dried powdered leaves can be used on their own. This would probably be the best one, being both low-carb and unprocessed, but it tends to be quite expensive in this form.
Processed Stevia products are available, usually in form of drops, or mixed with a bulking agent (such as erythritol) to create the more familiar granulated product.
Read more about the origins and production methods for Stevia in this in-depth NY Times article.
Luo Han (monk fruit) is also a natural plant-based sweetener, but is less common than Stevia, and typically difficult to buy offline. As is the case with Stevia, extracts and mixes are more common than its pure powdered form.
Substances to avoid
Watch out for misleading information on labels – manufacturers often try to disguise sugar content by using synonymous words to describe it.
Some products labelled as "healthy" or "low-carb" turn out to be not quite so on closer inspection. Be vigilant when trying new brands!
Avoid sugars in disguise
A sugar by any other name is still sugar. Any substance with a name ending in "…ose" is sugar and pure carb (1g net carbs per 1 g):
sucrose
fructose
glucose
dextrose
maltose
lactose
High Fructose Corn Syrup (HFCS), demerrara, turbinado, brown rice syrup and dextrin are all sugars – just with a slightly different name.
Avoid syrups and natural sweet foods that are high in carbs
Some natural sweet foods and plant syrups are used by the Paleo crowd instead of sugar.
However, these foods are still very high in carbs, so if you are on a low-carb diet, these won't be suitable. This group includes foods like:
honey
agave nectar
maple syrup
date syrup
molasses
coconut palm sugar
yacon syrup
Watch out for fillers and bulking agents
Some commercial sweeteners are bulked with other substances in order to make the texture and sweetness similar to sugar.
Some of these are high in carbs in their own right. The two common ones to watch out for and avoid are maltodextrin and dextrose.
A better bulking option would be a sugar alcohol. For example, erythritol is used in Truvia and Sukrin brands, and is very low in carbs (0-5g net carbs per 100g).
Summary: Best low-carb sugar substitutes
To summarise, here's the list of recommended products and brands
Best low-carb sugar substitute overall – Truvia
If I had to pick just one product for all my requirements, I would go for Sukrin, sucralose drops and Stevia drops are usually bulked up with just water and a small amount of alcohol.
They are a good choice to use when texture and bulk are not an issue, for example, for sweetening beverages or making desserts that don't require baking.