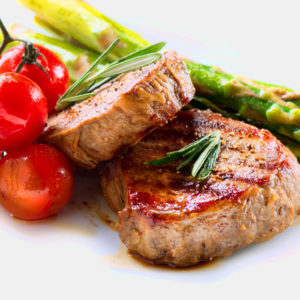 You get home after a long day at work, feeling tired and hungry. You know the healthiest way to eat is to cook from scratch. But spending hours in the kitchen is the last thing you need right now.
Not to worry – there are plenty of quick ways to throw together a healthy low-carb dinner! Here are some simple dinner recipes you can make in 20 minutes or less.
Pan-fry ground meat with vegetables
Minced meat (called ground meat if you are in the USA) takes a lot less time to cook than a solid chunk of meat.
You can use any meat – beef, pork, lamb, chicken, turkey. As always, when buying ground meat, check the label to make sure it's 100% meat, with no added wheat, starch or breadcrumbs. Carbs will use any opportunity to sneak up on you!
This method is just frying minced meat over high heat, with a bit of oil. Add a cup or so of chopped low-carb veggies, for example, zucchini, mushrooms, peppers, cabbage, onions or spinach. Tinned tomatoes also work well.
Jazz it up further with chilli peppers, garlic, herbs or spices. If the mix looks too dry, add a few tablespoons of stock, water or cream. Sprinkle with grated cheese for an extra oomph!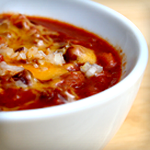 Recipe: Super Chili Bowl by Atkins
3.3g net carbs, 15 minutes cooking time
Oven-bake fish fillets
Oven baking works beautifully for oily fish. In a hot oven, most medium-sized fish fillets can be ready in about 12-15 minutes.
While your fish is cooking, steam some vegetables for a side dish, for example, cauliflower, broccoli, asparagus, green beans, spinach or bok choi. Add lots of butter and a bit of salt to make them taste more indulgent.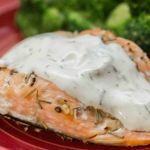 Recipe: Keto Rosemary Dill Salmon by Keto Size Me
0g net carbs, 20 minutes cooking time
Stir-fry meat or seafood with veggies
Stir-frying is pan-frying over really high heat while stirring your ingredients continuously. Many low-carb vegetables work well in stir-fries, for example, bean sprouts, zucchinis, cauliflower florets, mange tout, broccoli stems, mushrooms, peppers. For protein, use thinly sliced meat and poultry, fish or seafood.
Toss all ingredients together in a wok or a large frying pan, and stir-fry for 10-15 minutes. Use frying oil with a high smoking point, like sesame oil or peanut oil. Jazz up with oriental spices.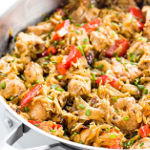 Recipe: Chicken Cabbage Stir-Fry by Wholesome Yum
5g net carbs, 15 minutes cooking time
Make a salad with lots of protein and a fatty dressing
Salads are not just for side dishes. They also make great, quick and easy main meals. Try low-carb versions of classical salad recipes, like Caesar salad (without bread crumbs) or Tuna Nicoise (without potatoes), or create your own combinations in a few simple steps.
Add some protein to it for substance, and dress with a high-fat dressing.
Start with a base of salad leaves or spinach
Add some chopped low-carb salad vegetables like cucumbers, tomatoes and radishes
Add some protein – ham, deli slices, leftover meats, tinned fish or cheese
Try a few extra touches to jazz it up – for example, herbs (parsley, dill, coriander), chopped olives, spring onions
Finish with a high-fat dressing like olive oil, home-made French dressing, mayonnaise or sour cream.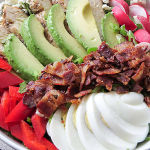 Recipe: Low-Carb Cobb Salad by Low-Carb Maven
6g net carbs, 15 minutes prep time
Fry a steak
Steak makes a fantastic low-carb meal. Most cuts of steak can be cooked in 5-10 minutes, or even less if you like it rare. If you have the time, it's best to take it out of the fridge beforehand.
For a side dish, try a green salad or some pan-fried veggies.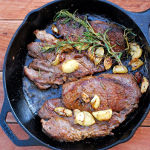 Recipe: Pan-seared steak by Paleo Foodie Kitchen
0g net carbs, 10 minutes cooking time
Grill sausages or burgers
Grilling is another fantastic cooking method that doesn't take long. It works well for burgers, sausages and bacon, as well as thin cuts of meat and fish. Mediterranean vegetables like peppers, zucchinis and aubergines are fantastic when grilled.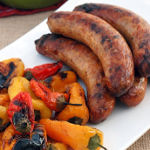 Recipe: Grilled Italian Sausage with Sweet Peppers by Katie's Cucina
5g net carbs, 20 minutes cooking time
Pan-fry thinly sliced meat
When cooking time is a priority, thin meat very thinly before cooking. It will get done over high heat in just a few minutes. This method is similar to stir-frying, but doesn't require constant stirring. It works particularly well for fatty cuts like duck breast, lamb neck or sirloin steak.
The best oil for frying is coconut oil, or any other vegetable or nut-based oil with a high smoking point. Don't use olive oil for frying – it's not ideal for high-temperature cooking.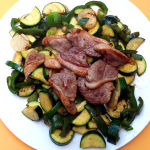 Recipe: Pan-Fried Duck Breast with Low-Carb Veggies
8g net carbs, 15 minutes cooking time
Throw together a low-carb platter – no cooking required
Put together some pre-cooked (but unprocessed!) meats or fish with salad vegetables, for a super-quick Keto meal. For example:
rotisserie chicken or duck (cooked plain or with herbs – avoid sugary sauces like BBQ)
smoked fish (e.g. salmon or mackerel)
tinned fish (e.g. tuna, wild salmon or sardines)
cold meats and deli slices (e.g. ham, turkey breast, roast beef)
cooked seafood mix (e.g. mussels, prawns, plain calamari rings)
coleslaw, pickled vegetables, olives
hard and semi-soft cheese slices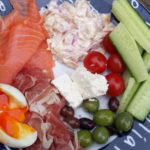 Add some chopped up salad vegetables (lettuce, cucumbers, tomatoes, spring onions, peppers, radishes) as a salad or a platter.
Serve with a fatty dip (sour cream, mayonnaise, blue cheese spread).

Food photographs in this post are the property of the respective recipe creators – see provided links to the recipes for full information.
---
Do you need more low-carb dinner recipes?