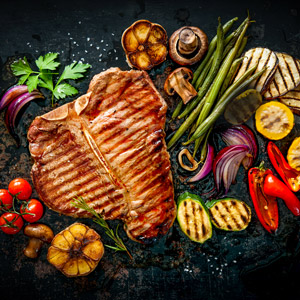 Low-carb side dishes can be a challenge for beginners. Maybe because we are all so used to carb-fest sides like potatoes, rice and noodles.
Vegetables to the rescue!
Clever low-carb versions of traditional side dishes exist – like cauliflower mash instead of mashed potatoes. And plenty of delicious vegetable recipes are naturally low in carbs.
Low-carb side dishes can be really interesting and versatile. Plus, they are much richer in vitamins, minerals and fibre, compared to the standard high-carb sides.
Here are some ideas for simple and delicious low-carb side dishes. They are suitable for all low-carb high-fat diets, including Keto diet.
Cauliflower
Cauliflower is the queen of low-carb vegetables. It makes a very convincing substitute for potatoes or rice.
Carb count: 3g net carbs per 100g (3.5oz)
1. Cauliflower mash
Mashed cauliflower is a classical low-carb side dish. Load it with plenty of butter, plus maybe extra cream and cheese, for a rich and scrumptious side dish.
Step by step guide to perfect cauliflower mash
2. Cauliflower rice
Cauliflower rice is another popular classic. Grate cauliflower into small bits the size of rice grains. Fry gently in butter or oil for a perfectly convincing rice substitute.
Best way to make cauliflower rice
3. Roasted cauliflower florets
Break up cauliflower into small florets, drizzle generously with oil and roast for about 20-30 minutes until it is soft and beginning to brown.
Roasted cauliflower – detailed recipe at the The Low Carb Diet blog
Mediterranean veggies
Courgettes (aka zucchinis), aubergines (aka eggplants) and bell peppers are popular in the Mediterranean cuisine. They are low in carbs and very versatile. There are many ways to cook them – here are a few simple ones.
Carb count: 2-4g net carbs per 100g (3.5oz)
4. Zucchini noodles – "zoodles"
Cut zucchinis into thin strips using a spiralizer tool, then steam or stir-fry until soft. Great substitute for noodles or pasta!
How to make zucchini noodles – step by step guide
5. Fried Mediterranean veggies
Slice red bell peppers, zucchinis and eggplants into thin slices. Fry over medium-high heat with a bit of oil, for about 5-7 minutes. Add a tin or tomatoes, plus a bit of crushed garlic and Italian herbs (oregano, basil, rosemary). Simmer for another 5-10 minutes. Sprinkle with grated cheese for an extra oomph.
6. Roasted Mediterranean veggies
Use bell peppers (red, yellow or orange), zucchinis, eggplants, tomatoes and red onions, on their own or in any combination. Slice length-wise and put on a baking tray. Drizzle generously with oil and season with salt and pepper. Roast for about 30 minutes, until your veggies are tender and beginning to brown.
7. Parmesan zucchini fries
Cut zucchinis into strips, drizzle with oil and put on a baking tray. Mix grated parmesan with herbs, salt and pepper and sprinkle the mix on top. Bake until soft and brown.
Crispy zucchini fries – detailed recipe at Wholesome Yum blog
8. Vegetable stir-fry
Mediterranean veggies are also perfect for a stir-fry. Just slice into thin strips and fry quickly over high heat. Other ingredients like mushrooms, bean sprouts, green beans and broccoli shoots are also great in stir-fries.
Cabbage
Cabbage is another super-versatile vegetable. You can do anything with it – have it fresh in salads, boil, fry, steam or pickle.
Cabbage carb count: 4g net carbs per 100g (3.5oz)
9. Fried cabbage
Chop a green or white cabbage into small bits. Add salt and leave to sit for 3-5 minutes. Fry over medium heat with vegetable oil, for about 10-15 minutes, until very soft and beginning to brown. Jazz it up with crumbled crispy bacon, fried pancetta or sausage slices.
10. Cabbage and tomato salad
Chop white cabbage into small bits, add fresh chopped tomatoes, add salt, and dress with olive oil or mayonnaise.
11. Steamed red cabbage
Chop red cabbage into small bits, steam in a steamer (or just use a colander over a pan of boiling water) for about 5-7 minutes until soft. Add butter or olive oil, plus a dash of something tangy like lemon juice or red wine vinegar.
12. Sauerkrout
Traditional German dish of fermented cabbage – perfect with fatty meat like pork belly, duck or sausages. You can buy it ready-made. Most brands have no added sugar, but double check labels just in case.
13. Coleslaw
Buy ready-made coleslaw, making sure there is no added sugar. Or make your own from scratch: chop up white cabbage, add a small grated carrot, dress with mayonnaise.
Mushrooms
There are hundreds of mushrooms varieties – and as many recipes. Mushrooms are low in carbs and they work wonderfully with high-fat dairy.
Mushrooms carb count: 2-4g net carbs per 100g (3.5oz)
14. Fried mushrooms with sour cream
Slice up mushrooms and fry in butter or oil for 10-15 minutes, season with salt and pepper. In the end, add a couple of spoonfuls of sour cream, crème fraîche or full-fat yogurt.
15. Portobello mushrooms with garlic and ginger
Slice Portobello mushrooms into long strips. Chop up some garlic and ginger. Fry together in oil for about 10 minutes, until soft and brown.
16. Roasted flat mushrooms
Roast large mushroom caps in the oven. Optional – put a few small chunks or butter or cheese on top beforehand.
Green leafy vegetables
Green leafy vegetables make perfect low-carb side dishes.
They are ridiculously nutritious. They may look like glorified grass, but they are packed with vitamins and minerals. They are also very low in carbs.
The key to making them taste nice and interesting is fat. Bathe your leaves in butter, cream, coconut oil or your preferred vegetable oil.
Carb count for green leafy vegetables: 1-4g net carbs per 100g (3.5oz)
17. Creamed spinach
Spinach may sound boring. But once you add cream to the equation, it transforms into a wonderfully rich dish.
Spinach cooks very quickly (2-3 minutes), using pretty much any method – you can pan-fry it in butter, boil with a very small amount of water, steam it or even microwave (with a bit of water). Add lots of fat like heavy cream, butter, or perhaps grated parmesan.
18. Fried kale
Kale needs a bit more cooking than other types of green leaves. The easiest way is to fry it on medium-high heat for about 5 minutes, with plenty of oil. Then add a little bit of water or stock and simmer for another five minutes.
19. Steamed Chinese greens
If you are a bit bored with traditional green leafy vegetables, try Chinese greens to add variety:  bak choi, Chinese cabbage, Chinese broccoli and amaranth. Most can be stir-fried or steamed.
Green veggies
Not all green vegetables are leafy, but they are still low-carb and full of nutrients.
Carb count: 3-6g net carbs per 100g (3.5oz)
20. Steamed broccoli
The best way to cook broccoli is to steam it, so that it gets soft but not soggy. If you are bored with standard broccoli, try more exotic variations like romanesco or young broccoli shoots. As always, heap butter or oil on top to make it more scrumptious.
21. Asparagus with hollandaise sauce
Asparagus with hollandaise sauce is a classical combination and a very sophisticated side dish. Asparagus is best when it's in season – spring to early summer. Winter asparagus sadly doesn't taste of much.
Low-carb hollandaise sauce recipe at Atkins Diet website
22. Green beans with garlic
Green beans work wonderfully with garlic. Steam or boil them until soft, then mix in garlic and lots of butter. You can also toss them into a frying pan in the end for a couple of minutes, for a more crunchy feel.
23. Brussels sprouts with bacon
Boiled Brussels sprouts are a bit boring, so roast or fry them instead, with plenty of oil. Chopped-up bacon makes a great companion for Brussels sprouts.
Salads
Salads don't have to be boring. Smother them in high-fat dressings, experiment with different ingredients and try new recipes.
Carb count for salad vegetables: 2-6g net carbs per 100g (3.5oz)
24. Green salad
Move beyond iceberg lettuce and try other options like rocket, lollo rossa, romaine and watercress. Chop the leaves roughly or use your hands. Flavourful dressing is the key to making green salad exciting. Add fresh herbs like coriander, parsley or spring onion for extra zing.
17 Keto Salad Dressings – Recipe round-up by  Healthful Pursuit
25. Greek salad
Greek salad is a classical combination of lettuce, peppers, tomatoes, cucumbers, red onions, olives and feta cheese. Chop these ingredients, mix them together, and drizzle with olive oil.
26. Sour cream salad
Tomatoes, cucumbers and radishes (each one separately, or mixed together) go very nicely with sour cream or crème fraîche. Just chop them up, season with salt, add sour cream, add salt, and mix everything together.
27. Veggie platter
The simplest way to serve salad vegetables is just to slice them up on a platter. Tomatoes, cucumbers, bell peppers, radishes and celery are perfect for this format. Raw cauliflower, broccoli, zucchinis and mushrooms can work too, as long as they are very fresh. Garnish with a creamy high-fat dip.
Low-Carb Dips – Recipe round-up at Diet Doctor website
Avocado
Avocados are full of vitamins, healthy omega oils and fibre. Superfood to boost your low-carb diet!
Carb count for fresh avocado: 2g net carbs per 100g (3.5oz)
28. Guacamole
All you need for guacamole is very ripe avocados and salt. Optional extras are lime or lemon juice, chopped coriander (cilantro), onion, and tomato – all are low-carb.
29. Avocado salad
Another option is to mix similar ingredients – avocado, tomatoes, onions – into a salad, rather than mashing them together. This works better with less ripe avocados. Season with oil and lemon juice.
Low-starch root vegetables
Not all root vegetables are high in carbs. Some of them escaped super-intensive farming and contain less starch.
Carb count for low-starch root vegetables: 2-7g net carbs per 100g (3.5oz)
30. Turnips and swede mash
Turnips and swede are root vegetables that make a good substitute for potatoes. Cut into small chunks and boil or steam until completely soft. Then add lots of butter or cream and mash. Both these vegetables can also be served roasted or fried.
31. Steamed daikon
Daikon is a variety of radish popular in South East Asia. Slice into thin slices and boil or steam until completely soft. Add butter or oil.
32. Celeriac fries
Don't let celeriac's strange looks confuse you – it tastes lovely. Try making celeriac fries instead of potato fries. Cut off celeriac's outer skin and slice into long sticks. Drizzle with lots of oil, season and roast for about 30 minutes.
7 Low-Carb Potato Substitutes, and How to Cook Them All
Squashes and pumpkins
Squashes are a bit higher in carbs than salad vegetables, but still much lower than potatoes. Enjoy them – but be careful with portion size.
Carb count: 6-10g net carbs per 100g (3.5oz)
33. Spaghetti squash pasta
Cut a spaghetti squash in tow, drizzle with oil and roast. Once cooked, scoop out the insides – they will separate into ribbons that work well as a pasta substitute.
34. Roasted pumpkins and squashes
Pumpkins and squashes are reasonably low in carbs, as long as you watch portion size. They work really sliced and roasted with plenty of oil.
Low-carb products you can buy
35. Shirataki noodles
Shirataki are Japanese konjac yam noodles. They are thin and translucent, with a jellified feel. Made with a small amount of glucomannan (a type of soluble fibre) and water, they have zero digestible carbs.
36. Low-carb pasta
Some brands have jumped on the low-carb wagon, with low-carb versions of traditional foods. Low-carb pasta products can be found online and from specialist shops. Usually, these are created using low-carb flours and protein isolates. This type of food is not naturally low in carbs, so be careful. Check the labels, read customer reviews, and monitor your own individual reaction closely.
Do you need more ideas for low-carb side dishes?

Check out this great cookbook
View the book on Amazon > >