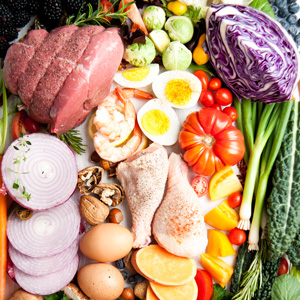 Low-carb is a great diet for food lovers. You can have incredibly rich and satisfying meals.
Succulent steak, scrumptious roast chicken, crispy bacon…
But you will still miss your high-carb treats – at least to start with. Don't worry. Carb cravings will go away once you fully adjust to your new lifestyle.
In the meantime, curb your cravings with clever substitution tricks. Most traditional recipes have already been adapted by your fellow low-carbers.
Here's the list of foods you are likely to miss in the beginning of your low-carb diet, and how to make them low-carb.
Bread (around 45g net carbs per 100g)
Bread is high in carbs because it is usually made from wheat flour. Gluten-free bread made from other types of grains (like rye or oats) is slightly lower in carbs, but still way too high for a low-carb diet.
Instead, you can make your own bread using low-carb ingredients, or buy ready-made low-carb bread from specialist shops.
---
Oopsie rolls (aka cloud bread) is a clever low-carb recipe, with just a few ingredients: eggs, cream cheese, plus a small pinch of cream of tartar.
This strange combination works surprisingly well. You can make them sweet (add a bit of sweetener) or savoury (add some salt or dried herbs).
Oopsie rolls are great on their own, with sandwiches or as burger buns.
Carb count: less than 1g net carb per roll
---
Low-carb bread made with nut flour is another popular option.
Almond flour, coconut flour and flaxseeds are very good substitutes for traditional flours, with a lot less carbs.
Carb count: 1-3g net carbs per slice
How to bake your own low-carb bread
---
Ready-made low-carb bread is now available from specialist shops. The easiest way to get it is by shopping online.
Not all brands are as good as they claim. Always read product reviews to make sure you can trust the brand.
Carb count: 1-4g net carbs per slice (depending on the brand)
---
Vegetables can stand in bread in some instances, for example:
Burger buns – large Portobello mushrooms or lettuce leaves
Sandwich bread – sliced cucumber, scooped tomatoes, grilled sheets of eggplants or zucchinis
Carb count: 1-3g net carbs
Sugar (100g net carbs per 100g)
Refined sugar is a pure carb: 100g of sugar contain 100g net carbs. Of course, it is completely out of bounds on a low-carb diet.
But there are many high-quality substitutes for sugar. So you can enjoy sweet-tasting foods without loading up on carbs.
The best low-carb sugar substitutes are:
Erythritol – granulated sweetener, perfect for baking, often mixed with Stevia for extra sweetness (popular brands are Sukrin and Truvia
Stevia extract – as liquid drops, or mixed with erythritol for a more intensive taste
Sucralose – as liquid drops, powder or tablets
Be careful with artificial sweeteners like aspartame or acesulfame potassium. Some of them have adverse side effects. Also watch out for cheaper polyols (xylitol, malitol, sorbitol) and fillers (maltodextrin, dextrose) – some of them are quite high in carbs.
Carb count: 0g net carbs
Read more about the best sugar substitutes
Cakes, sweets and treats (40-60g net carbs per 100g)
Cutting out refined sugar means saying goodbye to treats like sweets, cakes and biscuits. All of them are high in sugar.
The best way to fill that gap is to make your own low-carb desserts from scratch. You can use nut flours, high-fat dairy and sweeteners.
Alternatively, you can buy low-carb treats online.
Carb count: 2-5g net carbs per serving
How to avoid low-carb baking mistakes
Noodles and pasta (40-50g net carbs per 100g)
Pasta and noodles, like bread, are made from dough and are high in carbs. Here are some alternatives.
Zoodles – zucchini noodles
Cut zucchinis into thin strips using a spiraliser tool, then steam or stir-fry until soft. It makes a good substitute for any recipe with noodles or pasta.
Carb count: 3g net carbs per 100g
---
Spaghetti squash pasta
Spaghetti squash is a yellow pumpkin-like vegetable. When cooked, its flesh separates out in ribbons like spaghetti.
Carb count: 5g net carbs per 100g
How to make spaghetti squash noodles
---
Shirataki noodles
Shirataki are Japanese noodles made from konjac yam. They are thin and translucent, with a jellified feel and neutral taste. Consisting mostly of water and a small amount of glucomannan (a type of soluble fibre), they are only about 5 calories per 100g, and zero digestible carbs.
Another type of shirataki is tofu shirataki. This variation contains a bit more carbs than the traditional konjac one – around 3g per 100g.
Carb count: 0-3g net carbs per 100g
Potatoes (17g carbs per 100g)
Potatoes are so versatile. Once you cut them out, you miss out on fries, crisps, mash, hash browns…
But there is another way. Potato is the most popular root vegetable, but it's not only one. Its siblings in the root vegetable family are less famous but taste just as good, with less starch and fewer carbs.
Mashed potatoes – mashed cauliflower, turnips, swede
Boiled potatoes – daikon, kohlrabi or cauliflower
Fries – Celeriac, turnips, cauliflower
Hash browns, fritters, tater tots – Zucchini or cauliflower
Carb count: 2-6g net carbs per 100g
How to make perfect cauliflower mash
7 low-carb potato substitutes and how to cook them all
Rice (45g net carbs per 100g)
Rice is a grain, and so is very high in carbs.
Cauliflower rice
Cauliflower to the rescue! Cauliflower rice is another classical low-carb recipe. Just grate cauliflower finely into tiny bits, and fry gently in butter or coconut oil.
Carb count: 3g net carbs per 100g
---
Konjac yam rice
Our friend konjac yam of the shirataki noodles fame has also been made into rice.
Carb count: 0g net carbs
Chocolate and chocolate bars (30g net carbs per serving)
You can actually have chocolate on a low-carb diet – with just one condition. It has to be sugar-free.
The chocolate itself is not very high in carbs. It just gets laden with lots of sugar for mass-market products.
So find sugar-free chocolate, sweetened with Stevia, erythritol, or another low-carb sweetener. There are plenty of options available online and from specialist shops. You can also try making your own from scratch (it's actually quite good fun!)
Carb count: 3-6g net carbs per serving
Buy sugar-free chocolate online
Fruit (15-25g net carbs per 100g)
Most fruit is quite high in sugar. Substitute with fresh berries, or find options that are the lowest in carbs.
Fresh berries
The best substitute for fruit is fresh berries. You can have them on their own, make smoothies and desserts, and add them to recipes.
The best options are blackberries, strawberries, raspberries or gooseberries.

Carb count: 4-6g net carbs per 100g
---
Low-sugar citrus fruit
Lemons, limes and grapefruit are as low in carbs as berries. But they are too tangy to have on their own. Cut them up into slices or cubes and add some sweetener.
Another way to use them is to add lemon or lime juice to water, and to your low-carb desserts as a flavouring. Even a small bit helps to satisfy that fruit craving, plus you get a hit of natural vitamin C.
Avoid oranges and all their smaller relatives like mandarins and clementines. They are citrus fruit too but much higher in sugar.
Carb count: 5-6g net carbs per 100g
RECIPE: Low-carb lemon tart
Breakfast cereals (40-60g net carbs per 100g)
Breakfast is a bit tricky at the beginning of your low-carb diet. Most traditional breakfast foods are high in carbs. Breakfast cereals are usually a mix of sugar and grains.
One option is to switch to more low-carb friendly breakfast options like eggs, bacon and sausages.
But if you are really into your granola and muesli, create your own low-carb versions using nuts and seeds instead of grains.
Some commercial options are also available. Always check the labels to make sure it suits your low-carb diet.
Carb count: 5-8g net carbs per 100g
RECIPE: Low-carb granola bars
---